Review 'Skyfall': James Bond Is Back And Steps Into the 21st Century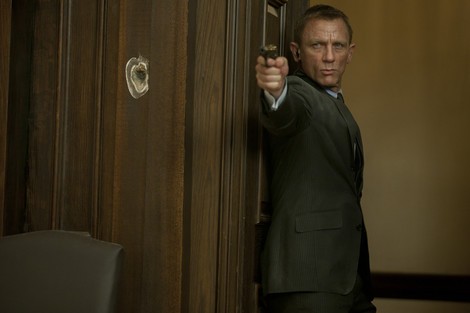 'Skyfall' directed by the super talented Sam Mendes gives us a very different James Bond.  
Yes, he's still the charismatic super macho male that loves sex, hot women, hot cars, gambling and kicking butt. But this time around he's also vulnerable, slightly worn out and much more human.  
Don't want to spoil the fun, so I'll just talk about the plot with broad strokes.
The film begins in Istanbul where Bond (Daniel Craig) finds a fellow MI6 agent critically wounded and the hard drive of a laptop missing.
Bond goes after the thief/hitman, Patrice (Ola Rapace), which culminates into your basic super exciting car chase; followed by a motorbike chase and ending with Bond and Patrice slugging it out on the top of a moving train.
At the same time fellow spy, Eve (Naomie Harris) who's there to help Bond, has a sniper rifle pointed at the bad guy. She's afraid to fire for fear of hitting Bond, but M (Judi Dench) tells her to 'Take the Shot.' Eve takes it and... Bond gets shot and falls into a raging river.
That's right folks, Bond is dead. Well not really, but everyone thinks he is. And James likes it like that. He's been recuperating on a tropical island and sharing his bed with one of the island's natives. Hint...She's a woman and she's gorgeous.
However when he discovers that there's been an explosion at headquarters, he decides it's time for him to resurface.  And it's a good thing too.
Seems the Chairman of the Intelligence and Security Committee, Gareth Mallory (Ralph Fiennes), has informed M that the stolen computer disc contained the list of every undercover NATO agent embedded in terrorist organizations around the world and they are being killed. He tells her that she showed poor judgment in handling the situation and it's time for her to retire.
Yeah, like that's going to happen.  
'Skyfall' is a film about revenge.  And no one does revenge better than...Javier Bardem.  He's absolutely fantastic as Raoul Silva, the man determined to bring down M and her organization.
Rounding out the cast is Albert Finney, Ben Whishaw as Q and Berenice Marlole.
'Skyfall' which opens Friday November 9, 2012, written by Neal Purvis, Robert Wade and John Logan is an intelligent, exciting and in the end, surprising film that won't disappoint fans or those new to the genre.
I loved this film and gave it 4 1/2 bagels out of 5.  Check out our video to see John's bagel rating and for more of our thoughts.
Please SUBSCRIBE to our channel on YouTube and LIKE us on our Two Jews on Film Facebook page. Thanks everyone. Love to  hear your thoughts.