Review: 'Seven Psychopaths' Is The Must See Film Of 2012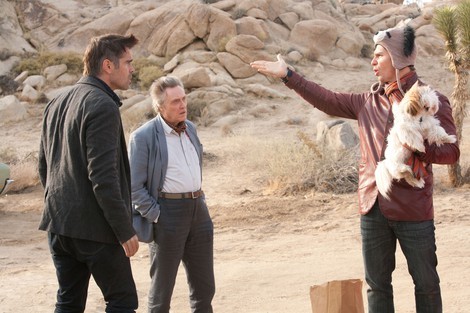 What does one little Shih Tzu named BONNY, Seven Psychopaths and one screenwriter suffering from writer's block have in common?

Everything...At least in my favorite film of 2012 so far.
Screenwriter, Marty Faranan (Colin Farrell) is way past his deadline on his latest screenplay. If that's not enough to cause the poor dude major stress, his passive-aggressive girlfriend, Kaya (Abbie Cornish) is about to walk out on him.

Lucky for Marty, his BFF sometime actor/full time dognapper, Billy (Sam Rockwell, in a tour de force performance) is sticking by him; actually a little too much.

In fact, it's Billy's well-intentioned attempts to help his friend get over his writer's block that sends Marty's life spiraling out of control.

You see, Billy is completely NUTS. He's one of the 7 Psychos. When he's not pursuing acting jobs, he along with his partner Hans (the brilliant Christopher Walken in a part tailored made for him) are dognappers. 
That's right folks. The pair kidnaps dogs, keep them for a day or two and then return them to the distraught owners for a hefty reward.
Things are going smoothly for Hans and Billy until...THEY STEAL THE WRONG DOG.
The dog is a Shih Tzu and his name is BONNY. The little guy belongs to an off the wall crazy gangster, aka psychopath, named Charlie Costello (Woody Harrelson at his best). Charlie loves Bonny to the point of obsession. You can't really blame him. The little four legged guy is adorable.
The scene between him and his dog sitter Sharice (Gabourey Sidibe), who he blames for the kidnapping is absolutely priceless. 
Charlie vows to kill whoever took his dog and he sets out to find those responsible. Suddenly, Billy, Marty and Hans find themselves going on one of the wildest rides of their lives and that's just one of the elements that make 'Seven Psychopaths' freaking brilliant. The acting, the dialogue, the twists, the turns, the originality of the story, makes this the MUST SEE film of the year.
It was written and directed by the super talented academy award winner Martin McDonagh ('In Bruges') who is also an award winning playwright as well.
The cast also includes Tom Waits as the rabbit loving psychopath, Zachariah and Olga Kurylenko a psychopath groupie who is far from normal as they come.
I gave 'Seven Psychopaths' opens in theatres, Friday October 12, 2012 5 BIG bagels with the works. I absolutely loved everything about it and I bet you will to.
John came in pretty close with his rating...which is something, considering how critical we all know he is. 
Check out our video to see Mango and hear more of our thoughts.
Please SUBSCRIBE to our channel on YouTube and LIKE us on our Two Jews on Film Facebook page.