Review: Second Helping Of 'Kick-Ass 2' Satisfies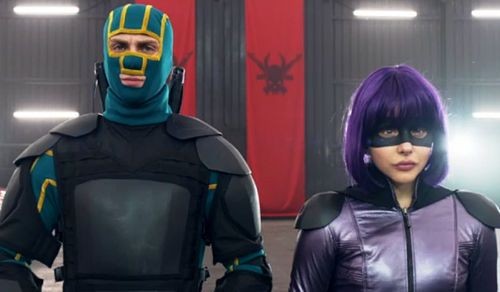 Sequels are always tough sell, but follow-ups to cult flicks might as well have a bull's eye attached.  In the case of the new "Kick-Ass 2" there is such a target but fortunately most of the characters, story and action hit the mark just right.  The result is a flick that stays right on par with its predecessor in terms of tone and entertainment value and gives fans of the original exactly what they crave – more of the same.
Young Dave Lizewski aka Kick-Ass is at a crossroads.  He's been missing in the crime-fighting superhero scene, so he decides to get back in the game by enlisting the help of Mindy Macready aka Hit-Girl to help him train and become a duo.  Unfortunately Mindy has got problems of her own.  Now a teenage girl, she's not just battling bad guys and her over-protective guardian, but also popular girls, high school life and just the act of fitting in.  So she decides to hang up her guns and ammo for good and in her absence Dave joins up with a band of misfit superheroes led by the born again tough guy Colonel Stars and Stripes to keep the streets safe.  Meanwhile Chris D'Amico, son of the former baddie killed in the first film, decides to form a villain happy gang of his own to hunt for Kick-Ass and soon a war of masked men and women ensues.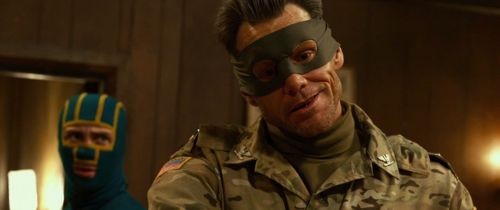 Even though "Kick-Ass 2" is directed this time out by "Never Back Down" alum Jeff Wadlow, his vision fits surprisingly well alongside the previous work by Matthew Vaughn in virtually every way.  The original vibe of regular folks being superheroes is fully intact (love the zealous glee of Donald Faison's Dr. Gravity!), the humor and playful nature is back (the names – Mother Russia – and comic reveals of each bad guy does kick ass!), and the action is in full and brutal swing in this second helping that satisfies.  But what I liked most this time out was the relationships within "Kick-Ass 2" – all of them.  The closeness of Dave and Mindy as they try to find themselves, the heat between Dave and Night Bitch Lindy Booth and the banter between Mintz-Plasse and the always funny John Leguizamo all provide the ever-important human aspect of what makes these films differ from the spectacle superhero norm.  It's especially evidenced in the funny, poignant, yet somewhat sad work by Jim Carrey as Colonel Stars and Stripes.  Brilliantly taking the quirk factor of Nic Cage's Big Daddy and adding layers of both glee and desperation, Carrey gives the flick laughs and life and has never been better.  His character serves as the learning lesson of the good and bad of being a human hero and it's the hidden gem of "Kick-Ass 2" for sure.
It's a shame that Jim decided to shun this one over violent content, especially since the Colonel is almost the moral compass of the film - a reformed bad guy.  (No swearing, no loaded guns and all done having a little fun!)  By distancing himself from the film, Jim's alienating himself from some of the best work of his career – a big mistake for a guy who's been so Oscar hungry.  But the beauty of this follow-up is that it never tries to ignore what made the first outing fun and in doing so "Kick-Ass 2" feels less like a sequel then a simple and enjoyable continuation of cool.    
"KICK-ASS 2" OPENS IN THEATERS AUGUST 16 FROM UNIVERSAL PICTURES.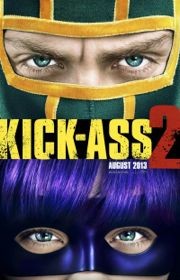 Title: "Kick-Ass 2"
   Stars: 4
   Genre: Action
   Cast: Aaron Taylor-Johnson, Chloe Grace Moretz, Jim Carrey
   Director: Jeff Wadlow
   Rating: R
   Running Time: 103 Minutes
   Release Company: Universal Pictures
   Website: www.kickass-themovie.com