Review Rundown: 140 Characters Or Less - Bullet For My Valentine, Cancer Bats, Flatfoot 56, More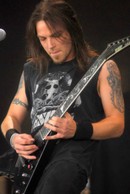 The Review Rundown: 140 Characters or Less express train rolls on through for another edition, this time serving up another ten spot of reviews that err on the side of brevity, including Jennifer Knapp, Bullet for My Valentine, Red Summer Tape, Flatfoot 56, Christa Borden, Calloway, Theory of Flight, Cancer Bats, the Apples in Stereo and the Glitch Mob.
File Under: Rock Tinged Singer/Songwriter
Jennifer Knapp – "Letting On" (Graylin Records): Sweet, sultry & decadently commanding, Knapp's "Letting Go" is brimming w/plenty of bright spots. It's part pop, part rock, but all good.
Grade: B
Go Download: 'Mr. Gray'
File Under: British Heavy Metal
Bullet for My Valentine – "Fever" (Jive): BFMV are ready to begin a new era of NWOBHM, and "Fever" might be the best place to start. It's the best the UK metallers have sounded yet. (www.myspace.com/bulletformyvalentine)
Grade: A
Go Download: 'Pretty on the Outside'
File Under: Powerpop By Way of Italy
Red Summer Tape – "Moving at the Speed of Light:" Youthful, lively powerpop from Italy that lends itself to the pop-punk side of things more often than not. Think Hit the Lights or Cartel. (www.myspace.com/redsummertape)
Grade: C+
Go Download: 'Hot & Cold' (Katy Perry cover)
File Under: Celtic Punk
Flatfoot 56 – "Black Thorn" (Old Shoe Records): A nonstop barrage of gritty Oi! & Celtic flavor, "Black Thorn" sounds like the streets of Chicago. Hey Flogging Molly, eat your heart out. (www.flatfoot56.com)
Grade: A
Go Download: 'The Hourglass'
File Under: Pop From North of the Border
Christa Borden – "I Rhyme with Orange" (David Carver Music): Incredibly honest, resolute & passionate, there's a good chance you won't hear many better pop records this year than "I Rhyme with Orange." (www.christaborden.com)
Grade: A
Go Download: 'Cut Me Loose'
File Under: Hard Rock That Needs Polishing
Theory of Flight – "Within Reach" (Blue Beet): Theres a lot to like on "Within Reach," ('Sinister,' 'One Last Call') but some songs are skipworthy. It shows promise. Rock fans listen up. (www.theoryofflightmusic.com)
Grade: B-/C+
Go Download: 'Can't You See'
File Under: Strong Voiced Pop
Calloway – "Chasin the Sun" (Blue Jude Records): "Chasin' the Sun" is everything you want your pop to be – sultry, easily relatable, powerful & radio ready. Calloway's future looks sunny. (www.susancalloway.com)
Grade: A
Go Download: 'Divided'
File Under: Intense Wave of Hardcore/Punk Noise
Cancer Bats – "Bears, Mayors Scraps & Bones" (Good Fight Music): Insert CD, listen, press pause, catch breath, then play & repeat. You may need to do that after openers 'Sleep This Away' & 'Trust No One.' (www.myspace.com/cancerbats)
Grade: B
Go Download: 'Sabotage' (Beastie Boys cover)
File Under: Indie Pop on the Dance Floor
Apples in Stereo – "Travellers in Space and Time" (Yep Roc): "Travellers" blends elements of dance, disco, indie, pop & synth in order to achieve its laid back & easy going, groove-tastic sound. A surprise around every corner. (www.applesinstereo.com)  
Grade: C
Go Download: 'No One in the World'
File Under: Entrancing Waves of Reverie
Glitch Mob – "Drink the Sea" (Glass Air): Textured layers of deep dub & slick trance lull you into submission throughout "Drink the Sea." It's a very long, involved journey of sound that's easy to get lost in. (www.theglitchmob.com)
Grade: B
Go Download: 'Bad Wings'