Review: Rourke Tears It Up In 'The Wrestler'

It couldn't have had a more clichéd premise: A washed-up athlete struggles against the odds for one last shot at greatness. But
Darren Aronofsky
reinvents this well-worn genre with "
The Wrestler
," and allows
Mickey Rourke
to reinvent himself with disarming charisma and unexpected vulnerability.
Rourke gives the performance of his long and erratic career in a stripped-down film that's brutally honest yet funny, touching and ultimately even sweet. His puffy, twisted features suggest a life lived infamously, but if you look into his eyes, you can see glimmers of the young charmer full of promise in "
Diner
" back in the early '80s. The melding of actor and role is seamless.
Aronofsky also breathes exciting new life into his filmography, which includes the emotionally draining "Requiem for a Dream" and the laughably pretentious "
The Fountain
." All the hyper-stylized tricks that primarily defined his career are gone, and he instead focuses his talents on simply, quietly telling a story.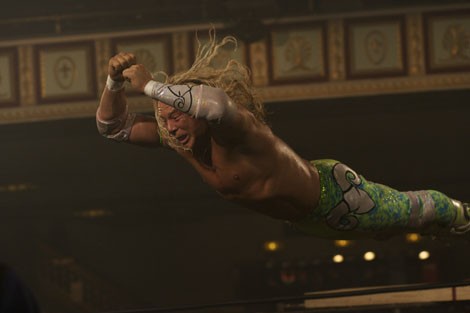 Rourke stars as Randy "The Ram" Robinson, a professional wrestler still climbing into the ring 20 years past his prime, with Quiet Riot's anthem "Metal Health" still blaring in the background. Everything about him is fake - his hair, his tan, even his name. He pumps himself full of steroids and has learned to ignore the considerable pain he's incurred over a lifetime of bodily harm. And yet his heart remains true and tender, even hopeful.
That, too, would seem like a hackneyed concept, but Rourke embodies the role so fully, with touches that are both bold and delicate, that you have no choice but to surrender to his work.
By day, he works a nowhere job at a supermarket and can barely scrape together enough money to pay the rent on his New Jersey trailer (when we first see him, in one of Aronofsky's many long, hand-held tracking shots, Randy is returning home on a bitterly cold evening and finding the manager has locked him out).
On nights and weekends, he travels to various gyms and VFW halls, working his trademark macho magic for crowds that have dwindled significantly since his heyday - but, hey, at least they still show up. A planned rematch with "The Ayatollah," the old nemesis he battled at Madison Square Garden two decades ago, might put him back in the spotlight one last time.
One of the chief sources of humor in this frequently bleak, bracing film - which is so vivdly brutal at times, it'll make you flinch and cover your eyes - is the camaraderie the wrestlers share backstage as they greet one another warmly and work out what moves they'll pretend to inflict upon each other. Randy refers to several of them affectionately as "Brother," and you sense that he genuinely means it.
But the one person with whom he seeks a deeper connection is Cassidy (
Marisa Tomei
), a stripper at a run-down club - the irony being that, similar to Randy; she also makes a living by putting on an entertaining show that's all artifice and manipulation. Tomei is believably lonely and lovely in the role, and although their relationship carries unmistakable shades of Rocky and Adrian, screenwriter Robert Siegel manages to undermine that cliché, as well.
Rourke also has some intense moments with
Evan Rachel Wood
as the daughter he's long neglected. In any other movie, their relationship would be shamelessly heart-tugging; in Siegel's script, it plays out in a few raw, telling moments.
Interestingly, Siegel is a former editor-in-chief of the satirical newspaper The Onion. But you won't find an ounce of snark in "The Wrestler." Small, poignant and perfect, this is the year's best film.
By CHRISTY LEMIRE AP Movie Critic
-
Click to View Gallery
© 2008 The Associated Press. All rights reserved. This material may not be published, broadcast, rewritten or redistributed.