Review: Riff Raff's Crazy 'Neon Icon'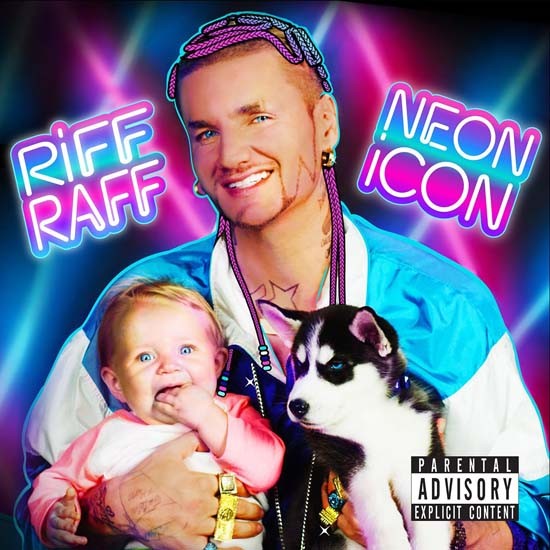 Riff Raff, Neon Icon – an unorthodox review for an unorthodox album 
"Ice on my hands, should have won a damn Grammy!" Hmm, memory serving correctly, being 'iced out' isn't a qualification to win a Grammy. In unorthodox rapper Riff Raff's twisted, cocky mind, he is God's gift to rap.  Listening to Riff Raff's album Neon Icon, it's somewhat difficult to decide if Riff Raff truly believes in himself as much as he leads on.  Everything about Neon Icon is utterly ridiculous.
Begin with the album cover.  Riff Raff is pictured in front of a neon backdrop holding a baby and a puppy, not exactly the cover one would expect for a rap album or any album for that matter.  A proud father he may be, the cover is a bit creepy.  If being completely crazy and 'off the wall' is what Riff Raff is going for, he succeeds exceptionally. For hip-hop traditionalists, the cover alone is S-U-S-P-E-C-T – SUSPECT! 
Then comes the track list it self, which is nothing short of um…interesting.  The song titles match the idiosyncratic album art, featuring colorful names like "Wetter Than Tsunami," "Versace Pythons," and most outlandish, "Tip Toe Wing In My Jawwdinz." With "Tip Tow Wing in My Jawwdinz," most anybody could add two and two together ("Tiptoeing in my Jordans"). 
Another shocking, but open-book title is "Kokayne" – what on earth could Riff Raff be referring to? The album's most sensible title come by "How to Be the Man," a track that ends up being unsurprisingly overconfident.  Perhaps it's judgmental, but the song titles provide further reason to avoid Neon Icon 'like the plague.'