Review: Rare Treat 'Antboy' Proves Good Things Still Come In Small Packages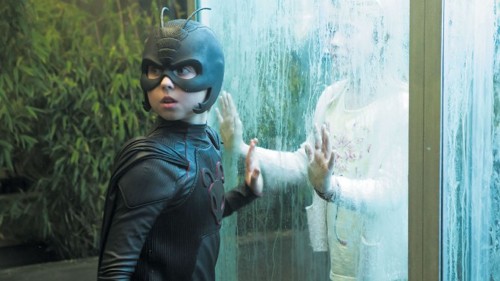 With so many superhero movies running rampant the bar has now been set pretty high in terms of level of quality.  Thus smaller films with a slight hero slant find themselves taking a backseat at times to the bigger budget films that dominate the cinema.  But that's why the new kid-friendly caped flick "Antboy" is such a rare surprising treat – it's a film with a ton of heart, style and substance that proves that masked good guys and their movies can both still come in small packages.
Twelve-year-old Pelle Nohrmann is quiet and ordinary kid who has familiar dreams of beating bad guys and getting the girl.  But one day when the youngster gets bitten by a special ant he finds himself developing super powers.  At first his antics only catch the attention of observant fellow student Wilhem, but soon Ant Boy gets recognized by fans and a dangerous new villain known as The Flea.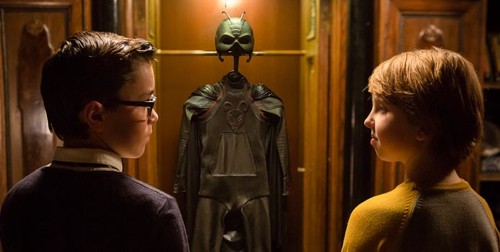 What's funny about this very simple story adaptation from a famed Danish comic series is how beautifully un-simple it is.  Told with a rich and layered skill reserved for someone like Christopher Nolan, Antboy director Ask Hasselbalch elvates this material way beyond standard kiddy fare.  (Zach Snider nothing - let Ask direct more Superman sequels!)  Mixing light comedy, deep dramatic tones, and even reflective moments (but all from a kiddie perspective!), his Antboy is a flick that defies the child-friendly genre and creates a real superhero flick pint size.  Of course it also helps that his "Antboy" of choice is the very cute yet very believable Oscar Dietz mixed with a perfectly stuffy sidekick via Samuel Ting Graf and topped off with the unconventional baddie Nicolas Bro.  (His kidnapping The Flea pushes a bad guy as far as he can go in this tot-ridden genre!) 
But in the end it's the skilled handling of the material that burns brightest here and as a result Ask Hasselbalch is certainly going to be a filmmaker to watch.  Look, anyone can make a caped crusader flick – but making one that conveys the complexity of adult themes while still staying true to the tots is the work of someone that shouldn't be ignored.   
"ANTBOY" IS CURRENTLY PLAYING IN SELECT THEATERS FROM CINEDIGM.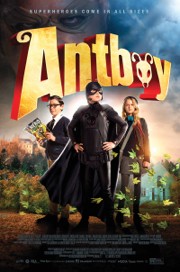 Title: "Antboy"
   Stars: 4
   Genre: Action/Adventure
   Cast: Oscar Dietz, Nicolas Bro, Samuel Ting Graf
   Director: Ask Hasselbalch
   Rating: PG
   Running Time: 77 Minutes
   Release Company: Cinedigm
   Website: http://www.cinedigm.com