Review: 'Prisoners' A Dark, Disturbing, Twisted, And Must See Film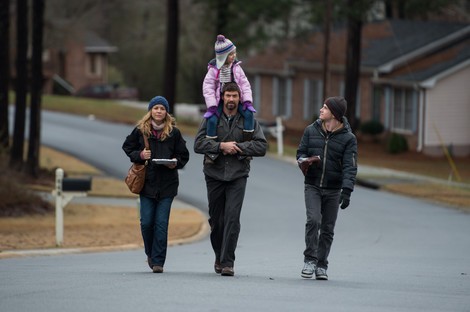 From the moment 'Prisoners', directed by Denis Villeneuve began, I knew I was about to see a film that was really, really good. And I was not disappointed.
In fact, by the time the end-credits rolled, I was actually feeling 'creeped-out (in a good way, if that's possible) and that feeling stayed with me for several hours.
The film, written by Aaron Guzikowski ('Contraband') is a dark, twisted, thrilling ride about the very important subject of child abduction.
If you're wondering why would anyone want to see a movie about that subject - that is unfortunately in the news practically every day - here are several reasons:
Hugh Jackman, Maria Bello, Jake Gyllenhaal, Viola Davis, Terrence Howard, Paul Dano and Melissa Leo.
Jackman is Keller Dover, a blue collar carpenter and self proclaimed survivalist.  
He's a loving husband to his wife, Grace (Maria Bello) and his two children. He's a man that is ready for anything, or so he thought.
When his six year old daughter Anna goes missing, along with her young friend Joy (Howard and Davis's child) he has to decide how far he will go to save her.
Leading the investigation is Detective Loki (Jake Gyllenhaal) who has to deal with his own demons, as he races against time to find the two young girls.
The best lead is a dilapidated RV that has earlier been parked on the family's street. Loki arrests the driver, Alex Jones (Paul Dano) but due to lack of evidence, he's forced to let him go.  
From here on the desperate Dover decides to take matters into his own hands and realizes, there's nothing he won't do, to protect his family.
'Prisoners' is an edge of your seat thriller, with twists and turns that will have you guessing right up to the end.
I gave 'Prisoners' which opens in theatres, Friday September 20, 2013, 4 1/2 bagels out of 5 and John, was pretty close in his bagel score.  Yes, this is a film he actually liked!
Check out our video for more of our thoughts and his rating.
Please SUBSCRIBE to our channel on YouTube and LIKE us on our Two Jews on Film Facebook page. Thanks everyone.
Let us know what you think about this movie.