Review: 'Premium Rush' One Super Exciting Roller Coaster Ride Through Manhattan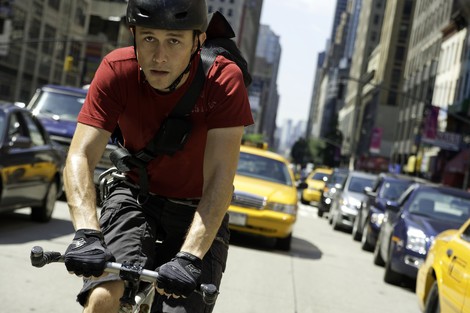 Sometimes a film is 100 per cent entertainment. That is definitely the case with "Premium Rush" written and directed by David Koepp (writer of 'Spiderman' & 'Mission Impossible' etc).

This film is one big roller coaster ride...one that you'll want to keep riding, right up to the end.

Joseph Gordon-Levitt is Wilee, ex law student, turned bike messenger, extraordinaire. He spends his days dodging speeding cars, crazed cab drivers and 8 million New Yorkers hurrying to get wherever, and he loves every minute of it.

To get an idea about who Wilee is his bike is super lightweight, with only one gear and no brakes. Wilee had them removed, so now's he's the fastest bike messenger in New York City. 

Wilee loves to tell fellow bike messenger Vanessa, (Dania Ramiez) his on-again off-again girlfriend, that putting on a suit equals death for him. That's why he's decided, for now, not to take the bar exam.

Our speed demon lives for thrills and soon, Wilee will get more thrills than he ever could have imagined. 

At the end of his shift, Wilee's boss asks him make one more trip...down to the Village to pick up a small envelope and deliver it across town. The job has to be completed in 90 minutes. It's a… Premium Rush.
Piece of cake right? Not when you have an over the top, crazy, degenerate gambler, crooked cop, Bobby Monday (Michael Shannon) on your heels trying to stop you.

I must say that Shannon is absolutely memorizing in this part. There's a scene where he's playing the Chinese tile gambling game, Pai Gow. Trust me; you won't be able to take your eyes off of him. He is that good.

'Premium Rush' is one of the most exciting films I've seen in a long time. The stunts and the action will have you sitting on the edge of your seat. The characters include: Wole Parks as Manny, a rival messenger with a super expensive bike and a super set of biceps. Jamie Chung (Nima) is all excellent.

I gave "Premium Rush" which opens in theatres, Friday, August 24th 4 bagels out of 5 and John came pretty close with his score. Yes, a film he actually liked.

Check out our video to see more of our thoughts.
Please SUBSCRIBE to our channel on YouTube and LIKE us on our Two Jews on Film Facebook page.

Thanks much..and let us know your thoughts.