Review: Phillip Phillips, 'Behind the Light'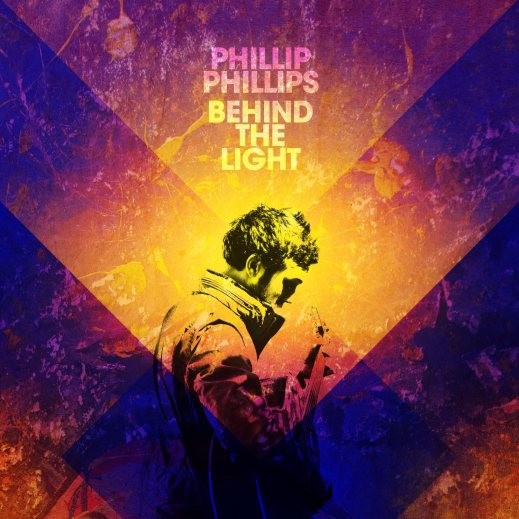 Phillips takes a step forward on his sophomore LP, though nothing supplants "Home"
"Searchlight" opens Behind the Light abruptly and somewhat indistinctly.  The folk rumination kicks off the track, instantly channeling Phillips' "Home"and of course one ubiquitous Mumford & Sons.  Not long after the layers of acoustic guitar and banjos, Phillips begins singing. The thinking isn't bad given the scope of the said hit, but also, the likelihood of replicating "Home" is a steep one.  "Searchlight" doesn't end up being a bad joint once it settles in, but I'm not sure that it's more effective than previous opener, "Man on the Moon".  The pieces are here, but how memorable "Searchlight" is ultimate, well, time will only tell.
If there was one thing that "Searchlight" did proficiently for Behind the Light, it was how much enthusiasm it delivered over its coarse.  Single "Raging Fire" picks up right where "Searchlight" leaves off, chocked full to the brim with enthusiasm. Vocally, Phillips is well suited for this cut, handling the melody much more capably then he did at times on his stint on American Idol.  "Raging Fire" is by no means the second coming, but like "Searchlight", the pieces are in place and it works soundly, if not necessarily being remarkable or earth-shattering.  If nothing else, the strings are nice touch, as is the overall gargantuan sound.
"Inside your hand it holds the question to it all," sings Phillips, "You start to pull the trigger, you start to pull the trigger." "Trigger" continues to carry the weight of rhythmic, layered guitars, always evoking the folk cues.  Predictably, the chorus has an anthem-like quality, with electric guitar seizing the charge.  While it rocks on the refrain, early on at least, Phillips vocals are slightly covered within the wall of sound production (though he still delivers with grit). By the bridge where emotion is incredibly high, the decipherability of the lyrics seems to be an afterthought.  Phillips is able to break loose by the final chorus where he extends his range, but perhaps "Trigger" is even a bit too manic despite what it's title suggests.  Still, if nothing else latches, the simplistic chorus is catchy (and powerful).
"Lead On" keeps things moving right along, apparently an M.O. of Behind the Lights' overall script.  To the credit of this particular cut, the predictably big chorus is a notch subtler than that of "Trigger", allowing for more of the Phillip's pipes to shine without overwrought production.   "You make your way through the fire / I stand inside and I get burned," he sings on the chorus. "…I can't quit you / and I'm fine with being used / so lead on, lead on and I'll follow." "Lead On" is nothing new in theme, but PP2 definitely gets his point across – Girrrrrrl, you better lead on!
"Alive Again" proceeds, featuring an excellent harmonic progression.  Obviously with the continued affinity for guitar layering, the chords are easily perceptible to the ear, a pro here.  The song itself isn't as grand as its ambitions you might say.  Sure, the chorus rouses through its forte plus dynamic levels and Phillips' yearning vocals, but the song feels as if somewhere in the developmental stage it's missing something.  Like most of Behind the Light, it's not bad, but I'm also not quite sure it reaches a label as being truly 'great' either.  The other thing that might slightly hinder "Alive Again" is that thematically, it's not that far removed from "Lead On" which arrived right in front of it.
"Open Your Eyes" has more of that Dave Matthews Band influence and sounds a notch more natural on Phillip Phillips than the previous trio of cuts.  The acoustic production seems to be the best backdrop for the artist.  The six-eight meter is a nice touch too, providing a nice metric contrast to the rest of Behind the Light.  Throw in the strings and "Open Your Eyes" is easily among the set's better moments.  "Fool For You" is none too shabby itself, if somewhat middle of the road adult-alternative pop/rock.  That's no deal breaker in the least, particularly since the selling point is definitely the chorus – arguably one of the best of Behind the Light: "I'm much too young / but just hold on / I'm such a fool / seeing it now / saying it loud / you know it's true / that I'm just a fool for / I'm just a fool for you."
"Thicket" intrigues with its instrumental build-up from the beginning, something that opener "Searchlight" could've benefitted from.  Again, one gets the sense of a Dave Matthews inspired sound, given the rhythmic nature and somewhat nonchalance of Phillips vocals on the verses.  Melodically speaking, "Thicket" is a bit quirky, perhaps something of a letdown following the exceptional overall production work. Still, "Thicket" itself would be worth a couple of more listens for the music if nothing else.  Oh by the way, the ending is pretty cool.
"Fly" initially makes the listener picture the Deep South, given the roots-driven, folk sound.  That persona changes on the chorus, where Phillips goes full-on rocker dude, assisted by the heavy guitars to match the intensity.  With attitude, Phillips belts: "I feel it's hard to say what's on my mind / I feel it's hard to say what's not inside / you think your fight is over / it's only so much closer / I reach my hands to the sky and fly".  There it is! To his credit, Phillip's pipes do shine in his upper register, where the pitch is clearly defined.
"Unpack Your Heart" is a bit more formulaic (aka commercial-minded) compared to some cuts on Behind the Light.  There's nothing wrong with formulaic, but "Unpack Your Heart" does have a bit of a harder act to follow in "Fly", which let loose of some of the 'controls' at the end to deliver a solid jam session.  In that regard, "Unpack Your Heart" may be meant to reign in and provide 'balance' to the album.  As expected, the chorus soars, not unlike the other love-oriented joints.
Penultimate cut "Face" has an alt-jazz quality via rock about it – again drawing those DMB comparisons.  The cut is much more ear-catching then "Unpack You Heart", a track you could hear everyday.  That said, whether "Face" is a track that will be remembered is separate notion than its distinction on this album – just saying! But you can't deny that Phillips shows a tenderer side here in his upper register.  "Midnight Sun" closes Behind the Light quicker and bigger.  The folk-rock cues are in place as is the epic chorus.  Its sound and shows Phillips sounding, well like himself.  Perhaps he's not quite a distinct musical personality, but it works.
Overall, Behind the Light has some worthwhile moments.  It's by no means the best or most memorable album of 2014, but to some degree, Phillip Phillips steps up his game on this effort compared to The World From the Side of the Moon.  That doesn't mean that anything supplants "Home" (it doesn't), but there are some enjoyable, notable cuts to partake of.  Personally, as a more casual listener, is it an album that will receive multiple spins? Eh, probably not, but Phillip Phillips fans and those looking for a mix between Mumford & Sons and Dave Matthews should look no further than Behind the Light.
Favorites

:
"Raging Fire"; "Open Your Eyes"; "Fool For You"; "Thicket"  
Verdict: ★★★
Phillip Phillips • Behind the Light • 19 / Interscope • US Release Date: May 19, 2014