Review: Pharrell Williams, 'G I R L' - A Great Start To A Strong 2014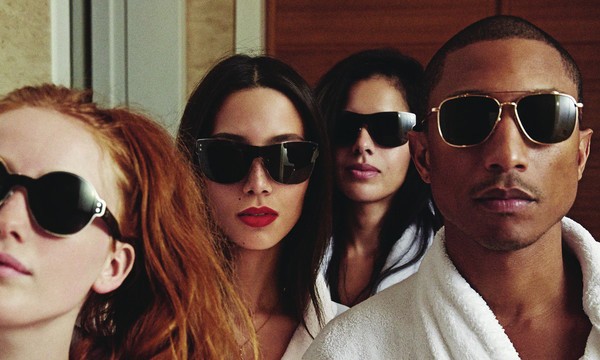 G I R L easily one-ups Williams' 2006 debut, In My Mind
Pharrell Williams • G I R L • Columbia • US Release Date: March 3, 2014
Arguably, no one had a better year in 2013 than Pharrell Williams.  A longtime veteran of the music game in a numerous capacities, things had become considerably slower for one of music's brightest beacons.  But then the music heavens delivered some big-time juggernauts via "Get Lucky" (Daft Punk) and "Blurred Lines" (Robin Thicke) that clearly reinvigorated the producer/artist's career.  William's accomplishments would be celebrated by a couple of notable Grammy victories and an Academy award nomination for "Happy", his infectious, number one single from the animated feature, Despicable 2.   Pharrell is no dummy – he knows that you're only hot for so long and then demand dwindles.  Because he's 'hot' right now, it's the perfect time to drop his second solo album, G I R L.  It's not merely a strategic thing either, as G I R L has the quality to back it up.  Compared to In My Mind, G I R L is tons more fun!
"Marilyn Monroe" initiates G I R L with a sophisticated, classical-sounding string flurry. And NO, those aren't MIDI strings, but the real-deal, arranged by – get ready for it – Hans Zimmer (among others, with Bruce Fowler serving as orchestrator).   The overall sound and vibe is 'Pharrell-ean', given the expected cues characteristic of the artist, but also incredibly soulful.  As sensational and classy as the production is, Williams' flawless falsetto seals the deal, particularly given the gentlemanlike tone of "Marilyn Monroe".  "Not even Marilyn Monroe / Queen Cleopatra please / Not even Joan of Arc," sings Williams on the refrain, "That don't mean nothin' to me / I just want a different girl…can't another good boy keep it this through." Essentially, Williams is hopelessly in love, and not even another 'dime' could atone for his affection towards 'her'.  Chivalrous as albeit.
The chivalrous spirit continues on the Justin Timberlake assisted "Brand New", which may be best summed up by its chorus: "Honey, you got me feelin' (brand new) / like the tag's still on me…jumpin' round in your bag…" Essentially, the boys are saying 'she's' changed them and reinvigorated them; they are renewed.  Sure a lyric like Williams' "A winner never quits / a quitter never wins / I thought about what I wanted / and you were on my list" is sort of schmaltzy, but it is memorable.  Ultimately, "Brand New" proves to be a pop-soul track that's clearing #winning.  "Hunter", the follow-up isn't too shabby either, though Williams allows for a bit more naughtiness.  Post-chorus lyrics like "My love has come…sex has come" clearly switch from the emotional side of the relationship to what goes down in the bedroom.  Still, Williams keeps things classy enough.  Again though, the falsetto is so 'nasty', William's sensual thoughts can be heard audibly in that upper vocal register.
So much for classy! "Gush" is not referencing 'gushing' ocean waves by any means.  But rather than stick that god-awful parental advisory sticker on G I R L, "Gush" has been edited, even if ubiquitous lyric "light that a$$ on fire" slyly remains intact.  The jazzy, soulful harmonic progression is clearly in Neptunian style, aka The Neptunes production.  That said, Williams was the driving force behind that production style, and he produces the entirety of G I R L.  But any who, Williams admits his perverted side didn't come from his momma: "I don't know what's come over me / my momma didn't raise me that way."  Still, the continuation of the pre-chorus seems like an excuse only by a man possessed by the three-letter word ("…You lit a fire, from inside of me / that'd light your seat ablaze, girl…"), only confirmed by the chorus ("Tonight I wanna be dirty, girl…do you wanna get dirty girl? Let's go"). Well, Williams is saying what most guys are thinking, right?