Review: 'Parker' A Pissed Off Thief Out For Vengeance (Video)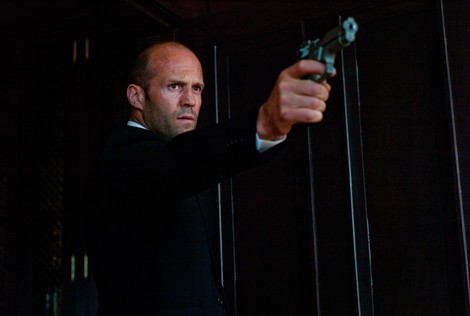 Parker (Jason Statham) is a thief and one of the best around.  But he's not just a thief; he's a thief with a code. Do what you say… If you don't… there will be consequences.
Parker demands absolute loyalty and strict adherence to the plan from his crew.  Unfortunately that's not what he gets from fellow thieves, Melander (Michael Chiklis), Carlson (Wendell Pierce) and Ross (Clifton Collins, Jr.).
'Parker' directed by Academy Award nominee Taylor Hackford ('Ray'), starts out with a daring robbery at the Ohio State Fair that doesn't go so well.  Thanks to the recklessness of one of his men, someone dies.
This leads Parker very pissed off at his crew and declines their invitation to do another job. He just wants his share of the take and to be rid of them.  
The gang however, has another idea. They want to pool all the money and invest it in a major jewel heist. So when Parker refuses to give up his share, they shoot him and leave him for dead at the side of a deserted road.
Lucky for Parker, a very nice couple comes along and saves his life.
Well if they didn't, there would be a movie, right?
Even though Parker isn't fully recovered, he wants one thing and one thing only... Revenge!
No one can stop him, not even his girlfriend Claire (Emma Booth) or her father and Parker's partner, Hurley (Nick Nolte).
He traces the gang to glitzy Palm Beach where they are planning to rob $50 million dollars of jewels. Needing to find out where the gang is held up, Parker poses as a wealthy Texan looking to buy a home.
And guess who his real estate agent is?  It's Miss J Lo, who winds up being extremely helpful to him, thanks to her extensive knowledge of Palm Beach.
You can imagine what happens next - after all this is a Jason Statham movie.  That's right, lots of violence, fighting, and of course a lot of... death.
'Parker' was written by John J. McLaughlin ('Black Swan' and 'Hitchcock') based on the novel, 'Flashfire' by Richard Stark aka Donald Westlake.  
It's basically mindless entertainment.  There aren't any surprises and the film gives you two hours of escapist fun. Personally I'd wait to see it on Netflix.
I gave 'Parker' 21/2 bagels out of 5. The film opens Friday January 25, 2012.  
Check out our video to find out John's score and hear more of our banter.
Please SUBSCRIBE to our channel on YouTube and LIKE us on our Two Jews on Film Facebook page.