Review: 'Out Of The Furnace' Is Well Acted But A Familiar Story (Video)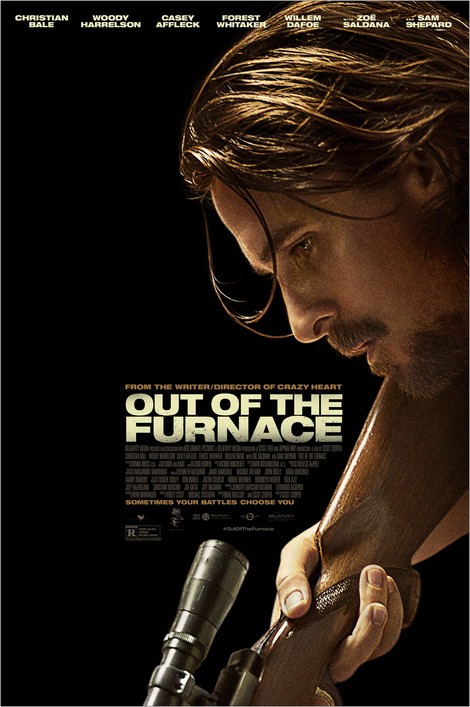 Some films grab you from the first scene. 'Out of the Furnace', directed by Scott Cooper, is one of those films. Not wanting to spoil it for you, let's just say it involves Woody Harrelson, his girlfriend, a drive in movie and a hot dog.  
Woody plays Harlan DeGroat, a crazy redneck, living in the backwoods of Pennsylvania. Besides having an off the chart violent temper, DeGroat is the leader of a gang of thugs, whose collective I.Q points hardly equals 50. But he's not the main focus of the film, even though he does play a very significant part in the events that transpire.
The main focus of 'Out of the Furnace,' which takes place during Obama's first Presidential campaign, revolves around his two brothers - Russell Baze (Christian Bale) and his younger brother Rodney (Casey Affleck).  
When Russell isn't taking care of his dad who's terminally ill, he works in the local steel mill that's about to close. Rodney, on the other hand, has just returned to the States after serving four tours in Iraq.  Too say he's a little on edge, is putting it mildly.  
Even though Russell doesn't have much in the way of monetary things, he's making the best of it. Of course, having a drop dead gorgeous girlfriend, played by Zoe Saldana, doesn't hurt. The last thing he would ever imagine, is that one night, an event would occur, that would change his life forever. 
'Out of the Furnace' is the story of what happens when a man loses everything, and all he has left, is his all consuming need for revenge. The film is extremely violent and extremely depressing. On top of that, it has a familiarity to it. It's a story I've seen more than once.
Yes the performances, including Willem Dafoe, Forrest Whitaker, and Sam Shepherd are all decent - but in the end I would wait to see this one Netflix.
For that reason, I gave 'Out of the Furnace' which opens in theatres, Friday, December 7, 2013, three bagels out of five.
Check out our video for more of my thoughts and absent John's bagel score.
Please SUBSCRIBE to our channel on YouTube and LIKE us on our Two Jews on Film Facebook page.
Thanks everyone and let us know what you think.