Review of ABC's 'Scandal': Have You Been Scandalized?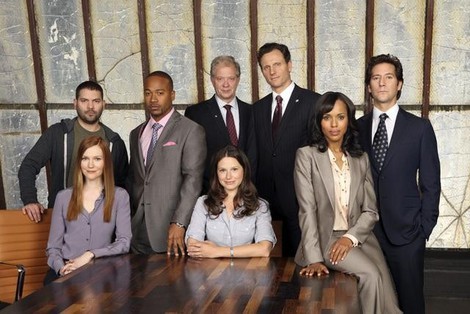 Shonda Rhimes' newest creation, ABC's political thriller "Scandal" (based on the real life of President George H.W. Bush's aid, Judy Smith) wants you to believe that Olivia Pope (Kerry Washington), a corporate fixer with some surprising and sexy ties to the President, is a superhero with a chic trench coat and stilettos instead of a mask and a cape.  She can intimidate gun-wielding Ukranian kidnappers with a single monologue, identify liars with her fine-tuned internal polygraph and is armed with a set of fabulously lethal cheekbones.  To gain entrance to her high-end batcave, you must be a "gladiator in a suit" and you must worship her.
"Scandal" is an over-the-top glimpse at the world of crisis management—a profession that had no booth in at high school career days because it's all cloak-and-dagger, hush-hush work.  In the pilot, an uber-conservative, war hero hobbles into the Pope lair covered in blood, declaring his innocence over the hours-old murder of his fiancée.  Pope and her go-get-'em sidekicks, including "Lost's" Henry Ian Cusick, gauge his innocence and ultimately take his case, manipulating and blackmailing to clear his name.
The premiere exceeds more than it flubs, especially with the smart use of new hire Quinn Rielly (played with plucky, starstruck enthusiasm by Katie Lowes) as the audience's newcomer and moral compass.  She asks the questions we scream from our couches and is rightfully confused when the case is considered closed the second their client is no longer suspected of killing his fiancé, not when the murder is solved.
Like Rhimes' other shows about pretty people with demanding careers—Olivia's love life is a complete trainwreck.  Pope has a palpable, twisted connection to the very married President (Tony Goldwin).  Their scenes, tucked away from the view of the camera in the Oval Office, provides some sexy and dramatic weight to the often grandiose pilot.  The true scandal of the show, and probably the season, involves President Grant, a young intern, and the petname "sweet baby."  This is one case Olivia won't be able to sweep under the rug so easily, and I can't wait to see how messy it'll get.
Washington, with her too-thin face and boundless energy, plays Pope as a worn-thin shark who solves the problems of the rich and powerful because she cannot remedy those in her own life.  I admire the tight intensity she infuses into her Pope, and how she doesn't flinch from the uglier facets of her character.  Thankfully, the supporting cast is more colorful than their tightly buttoned boss.  The early stand-out is Columbus Short ("The Losers") as Harrison Wright, the Robin to Pope's Batman.  It wouldn't shock me if they had a few buried secrets of their own.
Normally, I give new shows three episodes to reel me in, but "Scandal's" first episode already has plenty of bait.  While it's laughable that the show likens Olivia Pope to a hallowed saint, it's more nuanced than Rhimes' melodramatic clunker, "Private Practice," and feels grounded in raw emotion than the too-polished and aging "Grey's Anatomy."  I wouldn't consider it as easily addictive as ABC's other dishy hit, "Revenge," but if there are more scenes like the Oval Office romp and more twists like the outing of a painfully conservative soldier, then I consider myself Scandalized. 
What do you think of the premiere episode of "Scandal"?  Hit up the comments section below.
If you missed the show, check out the trailer.  "Scandal" airs on Thursdays on ABC at 10 p.m. EST.