Review: 'Neighbors' Is The Funniest Movie So Far This Year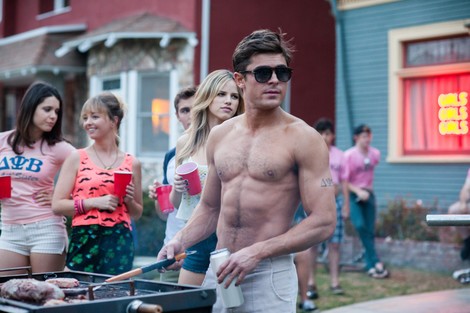 Who would have thought a film starring Zac Efron is the mother effing funniest thing this season? Directed by Nick Stoller and written by Andrew Cohen ('40-Year-Old-Virgin') with former '40-Year-Old-Virgin' production assistant Brendan O'Brien, 'Neighbors' is basically what happened after the 'Knocked Up' couple got married, had the baby, bought a house and started fighting with the frat next door. Like my two favorite 30-something films, '40-Year-Old-Virgin' and 'Knocked Up,' the movie takes something potentially two-dimensional, and creates multi-dimensional layers of endless comedy through writing, directing and acting.
Executive producer/writer Andy Cohen could've easily written a straight up cartoon-ish, one-dimensional film about an evil douchey frat boy battling a hard-working down-to-earth family next door. But, instead, he fleshes out the characters - showing the perspective of both neighbors in their fight for local dominance. 'Neighbors' is less a struggle over young guys wanting to party and old dudes wanting to stop it, but more about maturity and the various levels of adulthood.
When you're 18, 20 seems hella old and when you're 20, 30 is hella scary. When you're 38 ... well, let's just say even 39 is horrifying. It covertly addresses the non-stop party bubble created by college, where kids forget it's there to prepare them, not to entertain them. But, unlike college, the film is deliberately entertaining.
'Neighbor's slapstick, dialogue and improvisational humor were all bang on hilarious. Cohen doesn't shy away from mocking his co-stars or making self-aware filmic references. He blatantly calls out the Kevin James stupid, fat guy meets skinny smart woman relationship between his co-stars and includes every single joke you could've ever made about Zac Efron's "veiny dick arms" and Abercrombie and Fitch body. He even incorporates 'Knocked Up' criticisms. I simultaneously loved and hated 'Knocked Up.'
I loved that its funny frat boy humor featured fully clothed women, but hated their nagging naysayer personalities. But, there are no nagging naysayers in 'Neighbors.' Instead, the women equally participate in the shenanigans. Sure, the primary bros who are older/younger versions of each other take center stage, but NO character is wasted including the supporting frat boys.
I will always remember Ass Juice's infinite BJs and Garf's flaccid penis mold. The film is just FUNNY. The dialogue is so well-written, that actors like Zac Efron who lack an improvisational background, come across as relaxed and natural as Seth Rogen. Not a bit of humor or slapstick is forced; every single line is perfect and no aside is wasted.
The cast also deserves credit for bringing the script to life. Seth Rogen is at his most masterful and relaxed. You can't differentiate between his improvised lines and the actual dialogue, as both flows smoothly together. Rose Byrne does an excellent job keeping up with him as the cool wife. The film is a who's who of comedy/improv TV actors. Every single cameo rubber stamps the film's hilarity including spots from Ike Barinholtz ('Mindy Project'), Carla Gallo (10 times funnier than her 'Bones' character), Natasha Leggero (playing her usual slutty roles) and Jake Johnson ('Mindy Project'). If you blink, you might miss them.
So, don't blink. Zac Efron both exceeded expectations yet didn't. I heard a lot of advanced buzz about Efron's believably douchey frat boy character, who he plays to the hilt. But, honestly, the script is so amazing, that only a terrible actor could truly botch that writing. I expected to see a gleeful light in his eyes while torturing Rogen's character. Dave Franco does an excellent job as Efron's bro (who would've thought he'd become the more tolerable Franco)? And, Hannibal Buress was hilarious as the stereotypical 'dumb cop/security guard' featured in most frat boy films.
Last but not least, Nick Stoller's directing adds the final gloss to the film. Stoller could've easily thrown in the towel and done a bare bones directing job. While I didn't need the gratuitous breast shots at the end, I loved the opening frat history montage.
Cohen could've easily given us a flaccid one-dimensional film; instead he erects an awesome movie that stayed hard all throughout. If you loved '40-Year-Old-Virgin,' 'Knocked Up' or 'Superbad,' you'll love this. Just go for the infinite BJs. Trust me.