Review: MoMA's Tim Burton Exhibit

The
Tim Burton
exhibit at the
Museum of Modern Art
(MoMA) opened this past Sunday in New York City to a crowd of more than 10,000 people going though it on its first day. MoMA and the SyFy Channel arranged to have us go on a private tour of the exhibit that spans four floors of the museum so we could check it out and report back to you some of the goodies that are currently on display.
The items in the exhibit were handpicked by MoMA curators who walked into Burton's London home, were greeted by a sofa full of oompa loompas and were informed outright that they had pretty much free reign to go through anything and everything, borrowing whatever they wanted for this exhibition; something that just seems out of this world to a Burton fan like myself. Drawers, cabinets and boxes from multiple continents were gathered and put on display. There are wonderful glimpses from various moments in Burton's career on display; both realized and unrealized projects.
To gain access to the main portion of the exhibit you have to enter through a hallway lined with full World of Stainboy episodes that is reminiscent of the hallway of death from Beetle Juice, then you will find yourself in a dimly lit room filled with blacklight that has some really cool paintings that truly pop out with the blacklights and a carousel that is out of this world on display.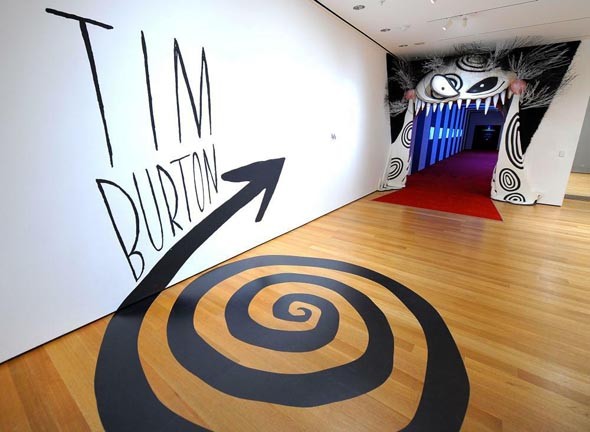 Then, it's as if you've truly crossed over to the other side, since you enter a wing of the museum that has been completely 'Burtonfied.' Everywhere you look; you turn and see the thoughts of a genius madman that are nothing less than awe inspiring to look at.
The majority of the works on display are from Burton's private collection that even he hadn't seen in years. There are pieces dating back to his teenage years growing up in Burbank, CA under the theme of 'Surviving Burbank' and 'Beautifying Burbank' to nearly everything in between then and present day when Burton himself made several pieces of art on location for this exhibition.
Certainly the evolution of Burton's look is on display. Numerous paintings and drawings of scenes hang that eventually became iconic scenes and characters in Burton films. Plus you can see the effect of Rick Heinrichs has had in some of Burton's look. After receiving several comments that his drawings were "too flat" Burton had enlisted the help of Heinrichs to make some three dimensional creations of his drawings and what you have there is the basis for many of the trademark looks that eventually hit the big screen and are most clearly defined in the
Nightmare Before Christmas
.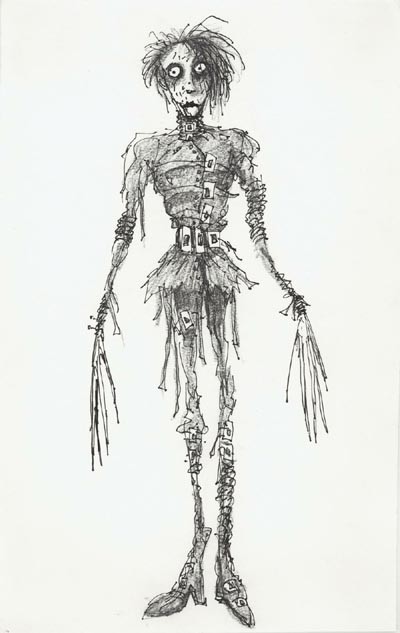 There are so many different aspects of the exhibit; books, drawings, paintings, photographs, models and movie props; even his films are being shown.
Some of our favorite pieces on display is a book Burton had written as a teenager, his pitch letter to Disney and their subsequent letter of rejection. A series of paintings and drawings about clowns. A scene that is quite anti-Disney where a blue and white Mickey Mouse-type monster is eating creativity and defecating brown boxes. Several props from Beetle Juice. Batman masks. Large Marge's eyeballs from
Pee Wee's Big Adventure
. Three aliens from '
Mars Attacks!
' The sweater from
Ed Wood
. And the ultimate,
Edward Scissorhands
himself. Yes, a life sized
Johnny Depp
figure donned in full on Edward Scissorhands! Plus there's an incredible Scissorhands replica topiary is out in the garden.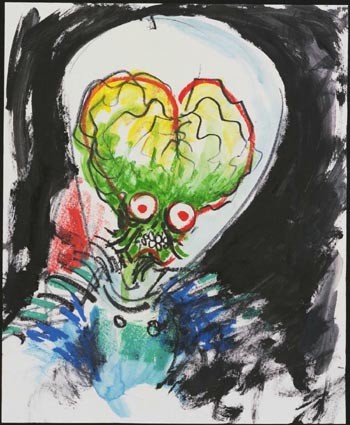 Perhaps one of the coolest items on display is the Hansel and Gretel film that Burton made for Disney in 1983. It is said that Disney was a little worried about the scare factor Burton made to the story that they had enlisted
Vincent Price
for an intro and outro to the show to let kiddies know that all is well. It had only aired once at midnight, was deemed too scary and apparently freaked out the executives at Disney to the point where it was shelved, forgotten and nearly lost until now; curators found the film and went to Disney for permission and Disney didn't even realize that they owned it. Thankfully you can sit back and watch it in its entirety at the exhibit.
One little quirk about the entire exhibit that stood out to us is how Burton had kept his Pee-Wee's Big Adventure and
Beetle Juice
movie posters; at one point in time they had been kept folded neatly up into eights compared to all of his other posters that appeared to have been hung in a display case immediately. Either Burton saw no need to hang them right away and simply folded them for safety or he folded them to keep them far out of sight and mind. In any event, seeing the neat creases on them only adds to Burton's mystic.
If you're a fan of Tim Burton, art or just incredible visuals you should without a doubt not miss your chance to see the exhibition. The exhibition comes across as being a wonderful autobiography that instead of being done with the written word is all visual with the occasional vocal.
Final Verdict:
It's a must see for there certainly is something for everyone there.
The Tim Burton exhibit runs at Museum of Modern Art with the help of SyFy through April 26th 2010 and is located at 11 West 53 Street New York, NY. Check out their
website for more info here
.
Story by
Eric Stromsvold
Starpulse contributing writer