Review: Miley Cyrus 'Bangerz' - Flawed And Lacking, It Captivates Nonetheless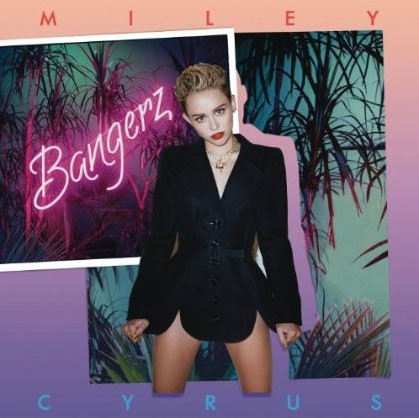 Somewhere between embracing the most irresponsible aspects of hip-hop culture and completely destroying  her formerly wholesome image,  Miley Cyrus has recreated herself just as she envisioned it… a cutting-edge, pop artist unafraid of shock value.  As many watched in utter disbelief (and parents likely watched in horror) as Cyrus stripped the innocence of the childhood teddy bear and a foam finger as well as  twerked on Beetlejuice (aka Robin Thicke) at the always raunchy VMAs, it was all a facet of her reinvention.  For the most part, much to my own chagrin and her many 'haters', her plan has been successful.  "We Can't Stop" and "Wrecking Ball" have both been triumphant successes. How does Bangerz the album stack up? Well, it's… something.
"Adore You" opens the album disappointingly, particularly given the electricity of  Cyrus's gargantuan promo singles.  The production and overall vibe of the cut play out soundly.  As for the songwriting itself, there is a clear lack of more development.  Verse one in particular seems to have few too lyrics to match the slow tempo of the cut.  Even the unifying chorus trends to simple:  "When you say you love me / know I love you more / and when you say you need me / I know you need me more / boy I adore you…" Sure Miley is just shy of 21 (aka still young), but this opener certainly doesn't support her newfound, 'grown woman' daringness.
The should've been opener "We Can't Stop" atones for a literal 'slow start', in all its irresponsible glory.  What more is there to say that hasn't already be stated? Mike WiLL Made It's production is top-notch and as much as I want to hate this song, I just can't.  There's just so many lyrics that are absurd, catchy, and memorable including "If you're not ready to go home / can I get a 'hell no'?" (Verse 1) or "So la-da-di-da-di, we like to party / dancing with Molly / doing whatever we want…" (Pre-Chorus).  It's a song that literally doesn't seem to be stopping anytime soon.
I wouldn't go so far as to say that "SMS (Bangerz)" packs a punch during its brief duration, but it certainly raises an eyebrow.  Miley and special guest Britney Spears definitely keep it 100.  Among the more notable, multiple interpretable lyrical moments comes from Cyrus's verse: "They ask me how I keep a man, I keep a battery pack…"  Well, we know the first part refers to her broken engagement, but that second part… I'm not touching it.  There's another gem in "All I need is milli's when I got Billy on my speed dial…" Is all Billy Ray Cyrus really good for is money?  To each his (or her) own. Who am I to judge?
"4X4" would normally be the sort of cut I would tar and feather because of its stupidity.  And it is really dumb, mind you. But, the country-pop-rap cut is sort of hypnotizing.  Maybe it's because of Pharrell Williams's odd-ball production or even Nelly's midwest touting rap, but for whatever reason, it sticks with you.  Still, I'm not to keen on Cyrus's line about "driving so fast 'bout to piss on myself…" Please girl!  Have some dignity!
"My Darlin'" definitely doesn't yield a 'match made in heaven' with Cyrus and autotune-loving Future.  I get the concept and almost feel it, but it just falls short.  Again, Cyrus can't escape her broken engagement, evidence on verse one: "I walked through a pool of water / when I see the shadow of a broken-hearted girl / picture us walking to the altar / for better or worse." I realize Cyrus is in pain, but when I heard that line about "a pool of water", all I saw was Cyrus crying those tears at the beginning of the "Wrecking Ball" video.  Is that cruel of me?
Speaking of "Wrecking Ball", it arrives in the nick of time.  Like "We Can't Stop", it is one of the very best songs of Cyrus's career.  Forget the questionable video, the song itself truly showcases Cyrus's potential once she's keyed in.  And don't deny it that you've broke out into the chorus heard 'round the world: "I came in like a wrecking ball / I never hit so hard in love / All I wanted was to break your walls / all you ever did was break me / yeah you wreck me."  Hey, I even found myself busting into the memorable chorus in church – just don't tell my pastor!
As Nelly Furtado sang on her Loose album "why do all good things come to an end?" Well that's life, and that's exactly what happens after "Wrecking Ball" finishes and "Love Money Party" is the follow-up.  To say it pales in comparison would be quite the understatement, as the message of "Love Money Party" is given away by its title leaving nothing to the imagination.  Maybe lyrics like "money ain't nothing / money can't buy you love…" offers some redemption, but ultimately the song is pretty shallow.  As for Big Sean what does he bring to the table? "My girl and watch both coordinate" and "Red cup get messed up boi…" Charming.
Pharrell Williams once more saves the day with "#GETITRIGHT" which is all about S-E-X.  "You're sexy sexy / I got things I want to do to you / make me make me / make my tongue just go do-do-do…" I think I just threw up a little, but you get the point.  The chorus just comes out and sums up all of Cyrus's desires: "I been laying in this bed all night long / don't you think it's time to get it on / but we gotta get it right, we can't get it wrong…" Okay… Regardless, "#GETITRIGHT" is one of the better ones.
The remainder of the album has its triumphs and misses.  "Drive" finds Miley spitting her emotions through the lyrics angrily and passionately.  Promising at times, "Drive" is a bit clunky, particularly opening with the chorus prior to a somewhat odd first verse.  "FU" sort of falls into the same boat.  The 6/8 retro-soul, electro, modern-pop mix is truly an interesting listen, but also bizarre.  Dramatic, unapologetic, and sort of undervaluing guest French Montana,  Miley 'cleverly' initials every twentysomething's favorite profane phrase.  Genius at work (*rolls eyes).  At least the chorus is kinda catchy.
"Do My Thang" is rebellious Miley's last hoorah you might say, before she gets "so serious about it".  Here, the listener is given the horrid experience of hearing cyrus proclaim she's "… a southern belle crazier than hell", "Bang b*tch / you think I'm a strange b*tch / it's bananas like a f*cking 'rangatang b*tch", and that "every single night and every single day / I'mma do my thing…" After her poor man's "We Can't Stop" thankfully dies, Miley decides to tell us about her relationship blues in both "Maybe You're Right" and "Someone Else".  Neither cut is particularly notable, particularly compared to earlier juggernauts.  Bangerz loses some steam within its final quarter.
The verdict? Bangerz is both flawed and lacking in cohesion, but is 'captivating' nonetheless… That's crazy, I know, but so is this album.  Somehow, I think Cyrus and company wanted a big pop album with little rhyme nor reason save for Cyrus's broken heart. Sure, Bangerz is by no means on anyone's 'album of the year' list (or at least I hope not), but it has its moments.  Sometimes you have to extract those moments mind you, but there is some promise.  As for some of Cyrus's hip-hop tom foolery, well it's just that.  I'd hang up them MC shoes girl! We have a Fergie and that's plenty.
Favorites: "We Can't Stop";  "4X4";  "Wrecking Ball"; "#GETITRIGHT"
Verdict: ✰✰✰
Miley Cyrus | Bangerz | RCA | US Release Date: October 8, 2013