Good and sad come together to form the oxymoronic "A Good Sadness", which continues on MGMT's odd track.  The cut grows incredibly dense and less accessible, coming over as more soundscape by the end than say notable, memorable song.  Experimental, it is interesting if overindulgent.  "Astro-Mancy" sports busy production work, but a persistent rhythmic groove from the start definitely provides the listener with something to latch on to.  Again, poetry drives the lyrics, led by the incredibly clever "For all I know we were sleeping / arranged like Fate's vain infantry / stacked in unconscious opposition / blind and happy for tomorrow…" Talk about 'staying trippy'!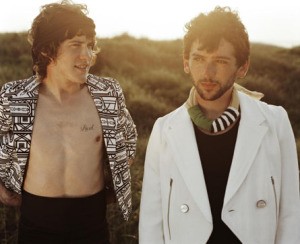 "I Love You Too, Death" opens with pervading minimalist ideas – shocker right? Eerie, VanWyngarden certainly paints death with his vocal approach and those top-notch lyrics.  "Cashiers won't deduct the pain / loneliness sleeps on the couch…" or "generations of defeat / always assuming you're the worst…". Ouch.  What makes it even more strange is that the cut which begins so 'deathly' off-putting transforms into 'love' by settling into a major key area.  Who'd a thunk it?
"Plenty of Girls in The Sea" is much more straightforward than a number of its colleagues, not to mention its length arriving as the second shortest cut.  Like "Mysterious Disease", there is no chorus, but the titular lyric once more serves as a central hooking lyric.  The best lyric: "The surgeon performs precise little cuts / but he's never perfect, he's thinking too much / and it's really no comfort to me / there's plenty of girls in the sea…" Closer "An Orphan of Fortune" ends the effort solidly, though not quite as magnificently as it opened.  Still, with plenty of lyrical prowess at work not to mention continually impressive productions, "An Orphan of Fortune" still  seeks some spins.
Ultimately, MGMT is another well-rounded, strange yet captivating MGMT album. Odd, beautiful, oxymoronic, spacey, and left-field, there is plenty of magic to be experienced by the open-minded listener.  It won't be for everybody, but if you enjoy out-of-the-box music and prefer MGMT on their experimental vibe, then MGMT should please you.  Better than Congratulations? Nah, but definitely worth the purchase.
---
MGMT⎪ MGMT⎪Columbia ⎪⎪ US Release Date: September 17, 2013
Favorites: "Alien Days"; "Cool Song No. 2"; "Mystery Disease"; "Your Life Is A Lie"  
Verdict: ✰✰✰✰