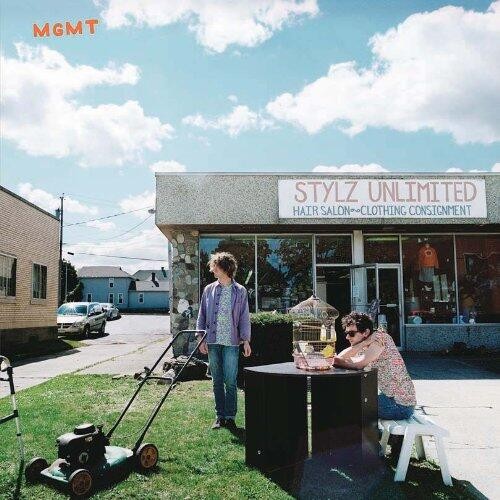 Alt-Rock's Trippiest Band Keep on Trippin' Three Albums In… 
Juicy J recently released an album entitled Stay Trippy.  True to it's title, it was most certainly trippy, amped up by its consistent references to the excesses of the hip-hop lifestyle: drugs (lean, weed, mollies) and girls.  Although vet Juicy J does a fine job of promoting continual irresponsibility by living it up and "putting it on wax",  Alternative rock band MGMT, three albums in mind you, do a superb job with all things 'trippy' themselves.  The trippy-ness that is MGMT must be fueled by their love of psychedelia, bright, minimal synths, and almost surely drug paraphernalia (LSD perhaps).  Their self-titled third set both allures and overindulges in its lush spaciness, playing very true to the MGMT script and delivering another fine affair.
"Alien Days" is a brilliant opener that impresses more and more with each successive listen. Trevor Napoli provides a child singing at the opening, which further adds to the mysterious, left-field sensibility of the cut.  After Trevor's feature ends, a groove helps to add some more 'traditionalist' nature to the cut, further anchored by a rich bass line.  The lyrics are incredibly poetic, a trend that dominates throughout MGMT.  Among my favorites? "Numbers can't decide if the day's supposed to smile" or the true thought-control playing "Those days taught me everything I know / how to catch a feeling and when to let it go…" Ultimately, MGMT outdo themselves here.
"Cool Song No. 2" has a tough act to follow, but manages to remain consistently strange and creative.  With nonchalant vocals by Andrew VanWyngarden further leading the mysterious charge, the lyrics take on an even more reflective tone surprisingly: "If you think that you're free (like a kite) / watching as it goes by (spy the unknown) / focus on the quiet oars / tell me how far you'd go (go where you like) / I know your air won't last (last one to know) / would you feel better holding the stars up…" Heavy stuff, but good stuff.  Plus, the piano adds a nice timbre to the mix.
"Mystery Disease" feels more accessible than the first two.  There is no chorus per se, but the continual return to the titular lyric gives this song a catchiness about it.  Lyrics such as "Floating impatience / snuffs my limited sapience / black smoke as soon as the pressure's released / deep space sights, the Mystery disease…" certainly allure.  Throw in a minor key into the mix, and that 'mystery disease' truly is dark and mysterious.
On follow-up "Introspection", MGMT feels a bit less captivating than the previous three, but the careful listener still finds plenty to feast their ears and minds into. The ever popular references to religious skepticism and atheism raise an eyebrow on the noble chorus: "Introspection, what am I really like inside / introspection, why have all the prophets lied…" Prophets such Biblical ones? You be the judge.  If "Introspection" left you wanting more (doubtful given it's consistency), "Your Life Is A Lie" serves up just the right dosage to more than whet your palate. Pessimistic yet centered in a major key, "Your Life Is A Lie" packs a knockout in just over two minutes.  Maybe the best play on words is "Tell your wife / this is your life / you life is a lie / this is your wife / now she knows, she understands / her life is a lie / nobody wins / try not to cry…" At least it's a pleasing pessimistic song, right?