Review: Mexican Oscar Entry 'Miss Bala' An Exercise In Audience Torture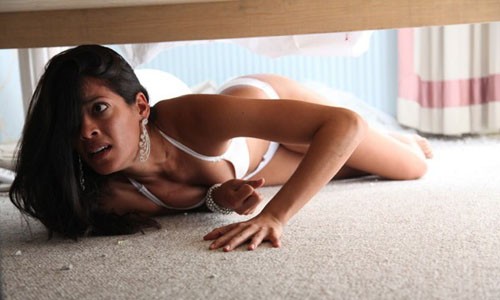 Some movies that have a must-see harrowing tale to tell can also be slightly arduous to get through.  Films like Alan Parker's "Midnight Express," Harold Becker's "The Onion Field" and even to some extent Stanley Kubrick's "A Clockwork Orange" prove powerful and painful thanks to sharp style and heavy substance.  "Miss Bala," Mexico's Official Foreign Oscar Entry, is likewise a laborious cinematic experience, but unlike the aforementioned examples the pain here seriously overshadows the pleasure.
Armed with a new dress and positive attitude, Laura and her Tijuana gal pal Suzu have high hopes of entering a local beauty pageant.  So when they are chosen to compete the girls head out to celebrate, but find their plans askew when violence erupts in a local gangland disco.  Losing her friend in the chaos, the spirited Laura is taken hostage by the brooding drug lord Lino and over the course of her ordeal is forced bow to his powerful will.
It's this breaking down of a human being that makes "Miss Bala" such an unpleasant outing.  Even in the face of arguments like subject importance and dramatic poignancy, Miss Bala just feels like an exercise in audience torture.  (And not that new fangled 'torture porn' Entertainment Weekly's Lisa Schwarzbaum refuses to watch!)  Plus there's no distinctive style or visual staple to help the film stand out, with Director Gerardo Naranjo relying solely on his sadistic story to woo.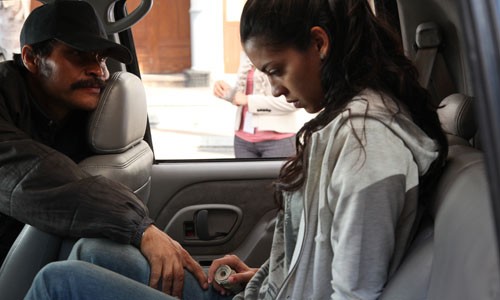 But every excruciating moment of "Miss Bala" is soul-sucking futility at it's worst, all the while witnessing the Stockholm syndrome effects that befall the seemingly powerless Laura.  And as the used and abused lead gal, actress Stephanie Sigman plays a thankless role that seems to have no evil end in sight.  (For her...or us!)  Even the fact that honcho Lino, played by the gamey Noe Hernandez, comes off believably as twisted and dark only serves to drag the viewer deeper into the unpleasant abyss that is "Miss Bala."
I'm not saying that all films have to provide a Disney sensibility to get a fair shake (the dark "The Divide" got five-star review glory from yours truly!), but if you're gonna go for the dim make sure there's more memorable meat.  Sans any style, charm, charisma and even just a captivating view of the underneath, the dark for the sake of being dark Miss Bala is about as fun as a root canal – minus the nitrous. 
"MISS BALA" OPENS IN SELECT CITIES ON JAN. 20 FROM FOX INTERNATIONAL PRODUCTIONS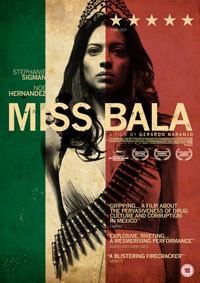 Title: "Miss Bala"
   Stars: 0
   Genre: Drama, Thriller
   Cast: Stephanie Sigman, Noe Hernandez, James Russo
   Director: Gerardo Naranjo
   Rating: R
   Running Time: 113 Minutes
   Release Company: Fox International Productions
   Website: www.missbala.com