Review: Mary J. Blige, A Mary Christmas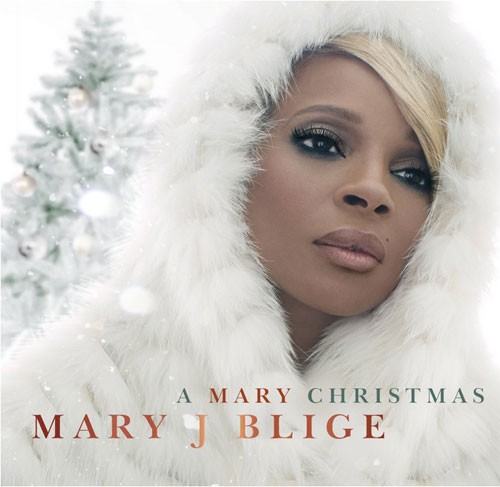 Blige's first holiday album is both pleasant and safe: Something about holiday/Christmas albums is truly irresistible.  Maybe it is because the music is so special and so familiar or maybe it's just because there is only one season of the year we are bestowed the gift of music that never stops giving.  I'm not sure, but I won't lie to you, I love Christmas albums. That said, to call most Christmas albums truly innovative or bold would be a massive overstatement and pretty laughable.  One would have to think that the queen of hip-hop soul's first Christmas album would be something truly special right? Well, Mary J. Blige's first holiday affair A Mary Christmas is enjoyable you might say, but it definitely won't be superseding Whats The 411?, My Life, or The Breakthrough anytime soon.
The main rub (if it is one) is predictability, something that is hard to squash with material so familiar and performed over and over many times.  "Little Drummer Boy" begins things off right with Blige's pipes sounding incredible controlled and tame throughout, until she ripens into that signature grit that comes from life's pain.  Sure "Little Drummer Boy" eschews pain, but Mary infuses her soul once she's warmed up.  Helps when a gospel choir backs you, only elevating the spirit.
"Have Yourself A Merry Little Christmas" proceeds soundly, if predictably.  Safeness and perhaps a somewhat draggy, lethargic tempo are the biggest rubs, giving the impression that the song is too indulgent into it's cool vibe.  It's still pleasant and a solid representation of MJB, but "My Favorite Things" and everyone's favorite soul Christmas standard "This Christmas" are stronger.  "My Favorite Things" retains its 'musical' roots, something I wouldn't have necessarily envisioned from Blige, but I dig it.  "This Christmas" definitely doesn't reinvent the Hathaway classic, but it seems the timeless song is pretty pleasing under many an artists wing.
"The Christmas Song (Chestnuts Roasting on an Open Fire)" is a personal favorite Christmas tune, but it's not always done 'justice' on Christmas albums.  It's no disrespect to respective artists who share my love, but often this particular song seems to need an extra boost or something extremely special to make it standout.  Blige's version is good, but like most, it still  leaves you desiring some more of that warmth of which the lyrics convey. "Rudolph The Red-Nosed Reindeer" infuses both tempo and jazz, but it's definitely a lot to take in.  The scatting by MJB is impressive as is the big band supporting her.  Still it may be a bit too fast and a bit 'too much'.  "When You Wish Upon A Star" is atonement though, finding Blige and Barbra Streisand duetting beautifully with Chris Botti accentuating things with his warm trumpet sound.  Yeah it's no Christmas song, but it does kinda fit ("When You Wish Upon A Star" has often been transformed).
"Mary, Did You Know" finds Blige outperforming the material itself.  Predictable, save for Blige's impassioned vocal histrionics and her artistry in itself, "Mary, Did You Know" is just so-so.  "Do You Hear What I Hear?" is stronger, though pairing Blige and Jessie J is nothing short of bizarre.  The popular tune goes through numerous changes, which both keeps it fresh and also sort of makes one scratch their head too.  "Petit Papa Noël" is more of the head-scratcher or at least an unexpected showing from Blige.  Who knew she sang in French?  It's a bit of a bore if you ask me, while "The First Noel" has some clunkiness about it initially.  Once the guesting Clark Sisters truly get riled up though and the gospel destination is reached, "The First Noel" ends up being something special.  "Noche De Paz (Silent Night)", which closes the album, is perhaps one of the more surprising moments.  Mary J. Blige and Marc Anthony? Who saw that coming.  Would I'd have preferred a more soulful take on "Silent Night"? Yes, but it is a contrast for sure.
Ultimately, Mary J. Blige has never faltered in my eyes.  A Mary Christmas is no falter either.  That said, MJB still falls victim of the same pitfalls of other big name artists who release a Christmas album.  It's good and suits its purpose for the season, but I wouldn't call it amongst the 'elites' of Christmas albums.  Still, worthy of some spins to incite the holiday cheer!
Favorites: "Little Drummer Boy"; "My Favorite Things"; "This Christmas"; "When You Wish Upon A Star"
Verdict: ✰✰✰
Mary J. Blige | A Mary Christmas | Verve | US Release Date: October 15, 2013