Review: 'Married to Jonas'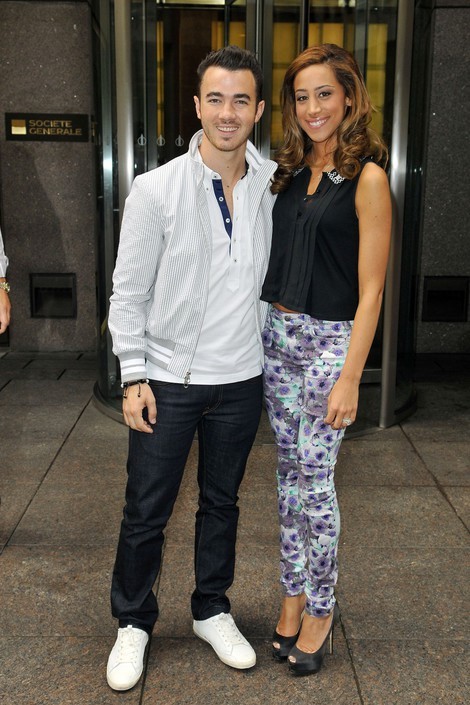 Kevin Jonas reminds us many times in the premiere episode of "Married to Jonas" that the Jonas Brothers haven't done anything, not a record, a concert or a TV show, in over three years.  Which probably explains my reaction to the news that Kevin Jonas was going to star in a reality show: "Are the Jonas Brothers even together anymore?" 
Well yes they are and their fans will get to see their new album and concert tour unfold during this first season of "Married to Jonas".
But the Jonas Brothers are just a backstory in this show. It seems E! wants the real drama to come from Kevin's wife Danielle (Dani) Deleasa and how she is adjusting to not only being married to a once crazy-popular pop star how she deals with his family.  The Jonases and the Deleasas are worlds apart and the tension that brings is what will be running this show.
If a millionaire pop star can be down to earth, Kevin Jonas is just that. He doesn't seem to take himself, or anything, too seriously (as opposed to his brothers, both of whom are shown intensely working at writing a song while Kevin randomly throws out ideas that seem to be ignored by his siblings) and it feels like E! chose the most likable of the Jonases to give his own show. 
The show begins with Kevin's and Dani's Teacup Yorkies Riley and Macy greeting Dani and Kevin in bed. Kevin asks his bride if she wants "another one" and when she responds in the affirmative he throws it out there that he'd like a baby instead.
And with that you instantly have an idea of how this season is going to pan out.
Dani is from an aggressive but loving Italian family who love to butt into her life. Her father Bucky shows up unannounced often (and I immediately wondered why someone like Kevin Jonas doesn't have better security) and her sisters and mother all sit with her and dish on Kevin's mother as a way of defending Dani. There is definitely an inferiority complex on Dani's part when it comes to the Jonases but the rest of her family is unimpressed.  This doesn't stop them from agreeing to help her cook dinner for all of the Jonases, even when she tells them they aren't invited to the meal.
Kevin acknowledges the tension between Dani and his mom but is convinced it'll work itself out.  Truthfully, it's probably the dad that she needs to watch out for more. Devin's mom Denise might want to poke her nose into her daughter-in-law's kitchen but Kevin Sr's focus is young Danielle's baby maker.  In the only truly uncomfortable scene in the first episode, the Jonases, encouraged by brother Joe asking when they're getting a baby announcement, spend the family dinner explaining to Dani that even though God has intentions for them to make babies, they need to make sure it fits into the Jonas Brothers' touring schedule.
The problem with "Married to Jonas" is that both families are just too likable. Kevin and Dani are in their early 20s and unlike some other young people from New Jersey who have their own reality show; they come across as sweet kids and not people looking to become famous from reality television. They seem to be genuinely trying to figure out how to be married and don't tend toward playing up to the cameras.  They both have strong-willed families who, as much as E! is trying to get the friction out of them, really seem to just have the best interests of Kevin and Dani at heart.
If the worst thing you can say about reality show stars is that they're likable, that means they're doing something right in the real world but wrong in the world of reality television. It'll be interesting to if folks rooting for them will be enough to keep the show going.
"Married to Jonas" premieres tonight at 10pm on E!