Review: Lin's 'Fast Five' Is Furiously Long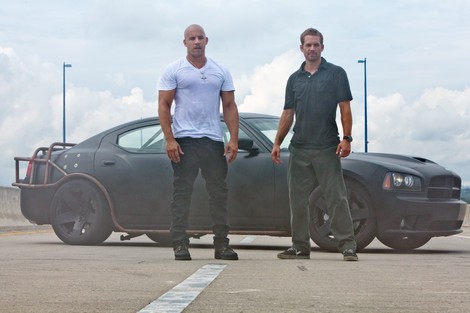 When you hear that the runtime for "Fast Five" is 130 minutes, you'll probably wonder why a mere 90, is not enough to unravel the fifth "Fast and the Furious" yarn.  Ultimately, the reason is that the filmmakers tell an overly complex tale, in an effort to milk the actors, the chase sequences, and even the series itself for all they are worth.
Picking up where the fourth film left off, "Fast Five" starts with flashbacks to the sentencing of Dominic Toretto (Vin Diesel) and his transportation to captivity.  En route, his pal Brian O'Conner (Paul Walker) and his sister Mia (Jordana Brewster) intercept Dom's bus, and help him make a daring escape. 
The stunt makes Mia and Brian fugitives as well, so the trio flees to safety in Rio de Janeiro, Brazil.  While in Rio, they link up with an old friend, to jack some cars for quick cash.  Unwittingly while stealing them however, they end up crossing Rio's most powerful drug kingpin, Reyes (Joaquim de Almeida). 
An angry Reyes compromises Dom and Brian's whereabouts to the press, in the hopes that the U.S government will send in troops to squash them.  As expected, a crack squad of commandos led by federal Agent Hobbs (Dwayne Johnson) is dispatched to bring them in dead or alive. 
Brian and Dom know that they can't get back at Reyes alone, so they call up some old acquaintances for help.  With the assistance of their friends, Dom and Brian formulate a detailed plan for retaliation; however they must avoid capture by the ruthless Hobbs in the meantime.  Thus commences an intense game of cat and mouse between the crew, Reyes, and Hobbs that continues to escalate until the three collide head on.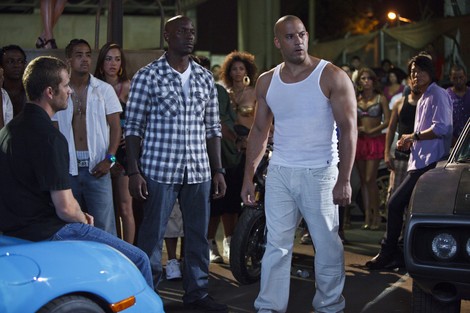 Probably the most interesting character to character interaction is the rivalry between Dom and Hobbs.  Pitting Vin Diesel against Dwayne "The Rock" Johnson seems apropos considering the two are bald muscular action stars, and although there aren't entertaining verbal exchanges, they do have a satisfying hand-to-hand brawl. 
Like its predecessors, "Fast Five" delights in the high octane chases, epic explosions, and twisted metal that come from pushing cars to their limits.  In an attempt to make action sequences more exciting, director Justin Lin places our heroes in comically ridiculous situations, which severely challenge your suspension of disbelief. 
Dom and Brian manage to jump off moving vehicles, fly off a cliff, and engage in fist fights without incurring any injuries like normal people would.  Sadly his indestructible protagonists are boring though, because you don't ever become worried enough about their safety to get invested in their characters.
The largest detriment to "Fast Five" is its unusually long running time.  At 2 hours and 10 minutes, it is way too long to keep the average action fan placated.  This is because writer Chris Morgan injects numerous unnecessary elements into the film like multiple romances, double crossing friends, grief over lost loved ones, and pregnancy.  It seems like Lin and Morgan were so happy to squeeze out another movie, they wanted to get as much content in there as possible, in case they didn't get a green light on another picture, which is strange, since they leave enough clues at the end pointing toward yet another sequel.  Let's hope they stop at five to prevent further degradation of the series.  
My Grade: C+