Review: 'Lincoln' - Spielberg And Daniel Day-Lewis Do The 16th President Proud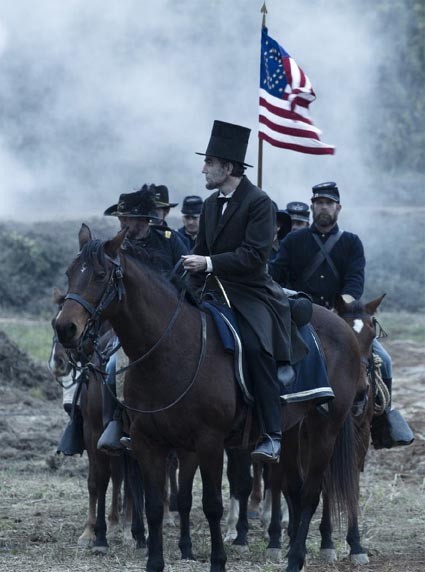 I know what some of you may be thinking about Abraham Lincoln. Boring right? Let me assure you this film is anything but boring.

Steven Spielberg has directed a riveting, intense, exciting, fascinating film about our 16th President of the United States – who put everything on the line to pass the 13th amendment to the constitution, which would end slavery throughout the country.
And let me tell you...that was no easy task. Thank goodness Lincoln had anti-slave Congressman Thaddeus Stevenson (Tommy Lee Jones - who's never been better) and Secretary of State William Seward (David Strathairn) on his side.
These guys will do everything and anything to help get this done.  
Seward even hires a trio of hooligans (John Hawkes, Tim Blake Nelson and James Spader) to help get Lincoln the votes he needs, by any means necessary.  They actually bring a wonderful comic relief to the film. 

What I found most interesting, (and apparently forgot from my history classes) it was the Republicans that were anti-slavery. The Democrats were vehemently pro-slavery and it wasn't only the Southern democrats. New Jersey, New York, Massachusetts were not big on the whole freedom thing either.

'Lincoln' was written by the award-winning playwright Tony Kushner ('Angeles in America'), which he adapted from two best selling non-fiction books; he does a fantastic job in capturing Lincoln the man.  The scenes between the President and his high strung, neurotic wife, Mary (Sally Field) and his son, Robert (Joseph Gordon-Levitt) are quite touching.
Kutchner and Spielberg also capture what a shrewd and clever politician Lincoln was, willing to make back room deals to get this amendment passed.  And wow, did this guy love to tell stories...long ones, but always interesting especially the way Daniel Day Lewis tells them.
Lewis's performance is absolutely memorizing and I predict he will get another Oscar for his work. 

The film takes place in 1865. The war is still raging but the South is losing. Lincoln has just four months to get this amendment passed. Once the war ends, it's over. No one will care about passing it.
The President is up against the clock.  And even though we all know how it turns out, you can't help but sit on the edge of your seat as the Congressman start to vote.  

Watching this film with an election coming up, you can't help but think about how far we've come and how far we still have to go. 
Spielberg, who I felt missed badly with 'War Horse,' has redeemed himself with this epic film. For that reason I gave 'Lincoln,' which opens in limited theatres Friday November 9th, 5 bagels out of 5.

John wasn't as passionate as I was about the film, but he did enjoy it...kind of. Check out our video to see his bagel score and for more of our banter.
Please SUBSCRIBE to our channel on YouTube and LIKE us on our Two Jews on Film Facebook page. Thanks everyone.