Review 'Life Of Pi': Ang Lee Turns Beloved Novel Into A Magical Film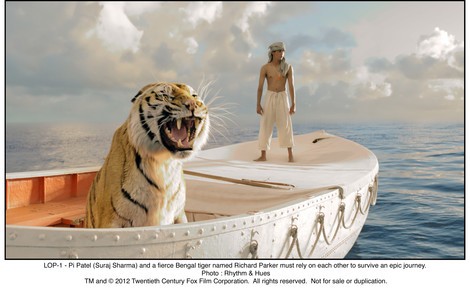 'Life of Pi' directed by the brilliant visionary Ang Lee ('Brokeback Mountain,' 'Crouching Tiger, Hidden Dragon') is the thrilling and powerful story of 17 year old Piscine Militor, aka 'Pi' (Suraj Sharma) - who grows up in Pondicherry India, a southern French colony during the 1970's.
Pi lives an idyllic life.  His house is located in a beautiful lush storybook setting surrounded by a zoo filled with tigers, hippos, organgutans, monkeys, zebras; just to name a few of the incredible animals that live there.  We meet Pi at the age of 5 (Gautan Belur - age 5) and then at 11 (Ayush Tandon).  
When not in school or studying, he spends his time with these fabulous creatures which leads him to develop his own theories about faith, religion as well as his theory about the true nature of humans and animals.
However, when Pi attempts to befriend a 450 lb Bengal tiger named Richard Parker, his father (Adil Hussain) freaks out and winds up teaching him a very harsh lesson about the true nature of this beast.      
Years later, because of economic reasons, Pi's father and mother (Tabu) decide to relocate to Canada.  This news is absolutely devastating for the 17 year old Pi.  He doesn't want to leave his animal friends or his human ones...especially his girl friend (Shravanthi Sainath).
But there is nothing Pi can do about it.  The decision has been made.  The family packs up their belongings, including some of the zoo animals that they intend to sell once they reach their new home, and set sail on a cargo ship.
A monstrous storm breaks out on the voyage, causing the ship to sink and killing everyone on board, except for...
Pi, the tiger (Richard Parker), a wounded zebra, a female orangutan, a rat and a vicious hyena. They find themselves adrift somewhere in the Pacific Ocean, sharing a 27 foot life boat.
Pi has to find a way to keep himself and the animals alive and eventually, he must bond with his mortal enemy...the ferocious Richard Parker.
'Life of Pi' written by David Magee is based on Yann Martel's award winning novel which spent years on the bestseller list.
Lee's vision, coupled with stunning 3D visuals, turns this beloved novel into a magical, mesmerizing, beautiful film about faith, hope and survival.  Plus it's done with a great deal of humor (something you better have if and when you're lost and sea with a Bengal tiger).
Rounding out the cast is Gerard Depardieu, as the ship's nasty French cook, Irrfan Khan as the adult Pi, Ayan Khan (Pi's brother) and Rafe Spall as the writer.
The only problem I had was how Lee book-ended the film. It just didn't fit with the rest of the movie.  But despite that, I still gave 'Life of Pi' which opens in theatres, Wednesday, November 21, 2012...4 1/2 bagels and John did the same.
Check out our video for more of our thoughts and please SUBSCRIBE to our channel on YouTube and LIKE us on our Two Jews on Film Facebook page. Thanks everyone.