Review: Lame Duck Comedy '10 Rules For Sleeping Around' Has Sporadic Laughs At Best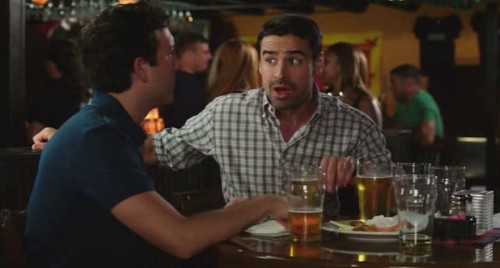 These days the screwball comedy has all but disappeared – the zany sex romp even more so.  Long gone are the days of B-movies like Hot Dog...the Movie, Zapped and Porky's, films that while flawed and juvenile managed to tap into the base humor in all of us.  Unfortunately the tradition does not continue in the new film "10 Rules For Sleeping Around," a lame duck excuse for a salacious comedy that has only shameful sporadic laughs at best.
Vince and Ben are best friends in life and business.  They share a currently floundering e-publishing business together and both have significant others.  But while Vince, who has been married to Cameron for years, has a swinging personal life, Ben finds his relationship with his finance Kate a little lagging.  So Vince lays out his secret for success – a list of rules for enjoying the fruits of the opposite sex but still keeping your marriage intact.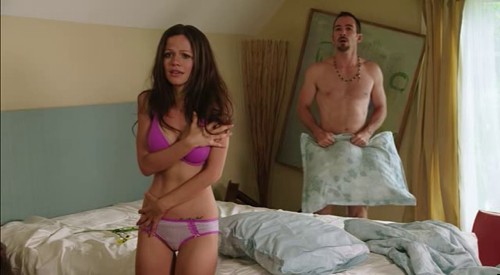 Of course Ben, played by utterly wasted "The Girl Next Door" alum Chris Marquette, is totally not ready or up for the task he is about to embark upon and hence where the zany antics begin.  Problem is "10 Rules For Sleeping Around" feels more like a bad "Three's Company" episode then "A Midsummer Night's Sex Comedy" because the characters are so over the top and vaudevillian, the comedy of errors misunderstandings so overused and inane, that any ability to relate goes right out the window.  This of course could work for a comedy that never takes itself seriously (for zany zeal see "Brain Donors!"), but there are certainly pangs of realism within "10 Rules For Sleeping Around" which then makes for one uneven jumbled mess.  The only character amongst the myriad of stereotypes (the lothario pretending to be gay, the young horny dude without a brain, ect.) to emerge unscathed and mildly funny is rich a-hole titan Jeffrey Fields played by Spinal Tap master Michael McKean and even that is more likely due to the comedic ability of the funnyman himself.  (It still does little to elevate the subpar material around him!)
I'm no prude and enjoy a good sex comedy, but this one just isn't all that funny.  Not raunchy enough to be memorable and too serious to be amusing, "10 Rules For Sleeping Around" is one lackluster addition to a deceased genre.  When a dog licking human ass is the epitome of controversial comedy there's trouble in puppy paradise.    
"10 RULES FOR SLEEPING AROUND" IS CURRENTLY AVAILABLE ON VOD AND OPENS IN LA AT LAEMMLE'S NOHO IN NORTH HOLLYWOOD AND AMC EMPIRE 25 IN NY ON APRIL 4 FROM SCREEN MEDIA FILMS.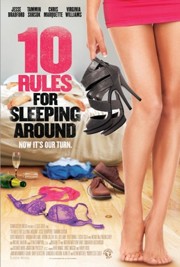 Title: "10 Rules For Sleeping Around" 
   Stars: 1 1/2
   Genre: Comedy
   Cast: Jesse Bradford, Chris Marquette, Tammin Sursok
   Director: Leslie Greif
   Rating: Unrated
   Running Time: 94 Minutes
   Release Company: Screen Media Films
   Website: www.screenmediafilms.net