Review: Kings Of Leon, 'Mechanical Bull'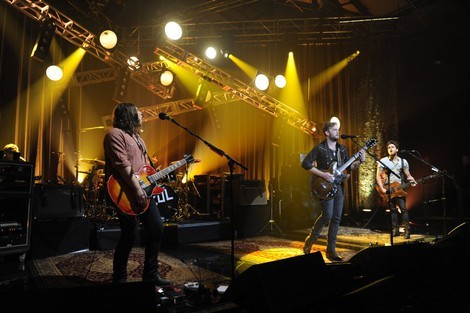 For a while, it seemed that southern/traditional rock darlings Kings of Leon were toast. Done.   Rumors ran rampant that the band was splitting up.  Thankfully, Kings of Leon quieted such troublesome talk by returning with their highly anticipated new album, Mechanical Bull.  Following up mixed Fall 2010 effort Come Around Sundown, Mechanical Bull has plenty of positives throughout its 42 minute duration.  To call the effort truly innovative would be an overstatement, but it is definitely Kings of Leon among their best.  Maybe a "Use Somebody" or "Sex on Fire" is missing from the mix, but there is plenty for the audience to sink their teeth into.
"Supersoaker" opens Mechanical Bull with great enthusiasm.  Caleb Followill's vocals are incredibly soulful, easily rising above the production.  Adding to the strength of the cut, lyrically it impresses, most notably on the pre-chorus and chorus sections: "Cause I'm the supersoaker red, white / and blew 'em all away / With the kisses unclean as the words that you say // I don't mind sentimental girls at times / mister walk away, walk away."  In addition to the in-your-face guitars, Jared's bass playing anchors the production down.  "Rock City" follows up "Supersoaker" in groovy fashion, finding the quartet delivering more of their signature soulful southern rock without missing a beat.  "I got back to Rock City / that's where she saw me / everybody's seen her / everyone believes me," Caleb sings on the catchy, easygoing refrain, after boasting things like "Oh baby I could shake it like a woman…" and "I found myself face-first on the floor, searching for something / but never finding something." Captivating, "Rock City" rocks, as it should.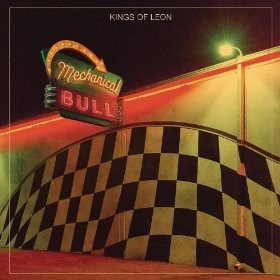 "Don't Matter" sports a driving groove (a wall of rhythm), tightly packaging its contents at under three minutes much like "Rock City".  As the title suggests, Caleb confirms "It don't matter to me", period.  Numerous illustrations are mentioned lyrically, including "Such a swine lips like wine / but it don't matter to me…", "Like a snake I wake and I back…I could f*ck or I could fight / it don't matter to me…", or "You could bleed stain my seed / it don't matter to me…" Yeah… Apparently it doesn't matter because "It's always the same / and I'm always the same…" Ultimately, it's another enjoyable number.
"Beautiful War" expands the duration, clocking past the five minute mark.  In addition to the expansion of duration, the tempo slows a bit, but not sans rhythmic presence.  The cut isn't a 'smooth ballad' by any means, as Caleb definitely asserts his presence throughout the progressive pacing.  The main quibble is it's length, and perhaps a bit of one dimensional thinking, as the cut relies on a minimalist harmonic progression.  "Temple" predictably accelerates the tempo, but this proves to be a smart move.  While a return to three-minute cuts fails (it stands at over four), the length is more accessible than the lovely, though longish "Beautiful War".  As a song, "Temple" certainly isn't bad, but nor is it valedictory.  Still, The Followill boys would "…take one in the temple / I'd take it for you…" I suppose they'll also take criticism in regards to "Temple" falling short of the glory of say "Supersoaker"?
"Wait For Me" arrives in the nick of time to provide atonement for any ceded momentum.  "Wait For Me" is certainly not 'new' Kings of Leon by any means, but well conceived, familiar territory.  Medium in speed and open to multiple interpretations, "Wait For Me" seems to be a plea to its audience to 'wait' and not 'give up' despite the past, problems, so on and so forth.     The refrain is simple, finding the band not over thinking by any means: "Wait for me, wait for me / it's all better now, it's all better now / wait for me, wait for me."  "Wait For Me" stands tall alongside "Supersoaker", the top echelon of Mechanical Bull.
"Family Tree" funks things up, In a traditionalist rock and roll sense that is.  Everything definitely feels like it's in the pocket.  The highlighting moment? The breakdown section with some good ole southern gospel sensibility. Let the church say yessssssss! "Comeback Story" is no slouch itself, featuring signature KOL cues in play.  Anchored by a pleasant, memorable chorus ("I walked a mile in your shoes / and now I'm a mile away and I've got your shoes…"), the "Comeback Story" is overall soundly presented.  Oh and did I mention the use of strings? Beautiful.
On "Tonight", Caleb's pipes seem incredibly drenched in nuance, particularly on recurring lyrics "It's coming on, it's coming on". The impact on the refrain is large in scope, but who expects any less, right?  "Tonight" is a fine cut overall, but a bit lengthy when it's all said and done.  Penultimate number "Coming Back Again" pushes the tempo while maintaining brevity.  The results? It receives my approval. "On The Chin" closes solidly, though isn't necessarily a highlight per se.
How does Mechanical Bull rank? Pretty well ultimately.  It's not perfect by any means, but it is a soundly conceived effort that should please both fans and critics alike.  Personally, I'm just glad one of my favorite bands are still a band, period.
Favorites: "Supersoaker"; "Rock City"; "Wait For Me"; "Comeback Story" 
Verdict: ✰✰✰½
Kings of Leon | Mechanical Bull | RCA | US Release Date: September 24, 2013