Review: 'Killing Them Softly' Proves Even Bad-Ass Hitmen Have Problems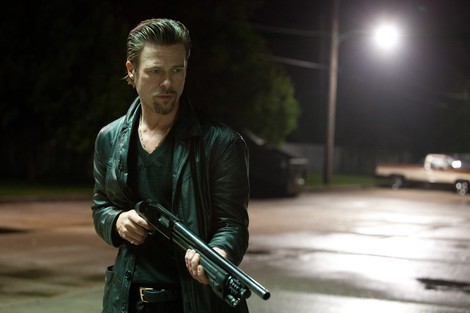 'Killing Them Softly' is a quirky, black comedy about angst ridden hitmen dealing with the economic meltdown of 2008.
Jackie Cogan (Brad Pitt) is a very laid back guy.  He likes to chat with people, he's friendly and... he's a hitman. But Jackie can only kill people that he's never met and he can't kill them up close; only from a distance.  He doesn't like to hear his victims beg for mercy; Jackie says he likes to 'Kill Them Softly.'
So when a mob protected poker game is robbed, Jackie is sent in by Richard Jenkins aka The Driver, to restore order.
The mastermind behind the robbery is a dry cleaner named The Squirrel (Vincent Curatola). He hires two airheads, Frankie (Scoot McNary) and Russell (Ben Mendelsohn) to do the job. Squirrel is convinced that Markie (Ray Liotta) who runs the game will be blamed for the heist.
Seems years ago, Markie not only robbed his own game but was stupid enough to brag about it.
Jackie hires Mickey (James Gandolfini) for the job (poor, poor Mickey).  This is one unhappy hitman.  He's addicted to booze, hookers, and super hung up on his ex wife.
If that's not bad enough, Mickey got busted on a weapons charge and is out on bail.  Only problem is, he missed his court date to do this job for Jackie, and now, he's a wanted man.
'Killing Them Softly,' written and directed by Andrew Dominik ('The Assassination of Jessie James') is based on a 1974 crime novel, 'Cogan's Trade' written by George V Higgins.
It's been updated to 2008 and the TV news plays in the background throughout the film, giving us the voices of Bush, McCain and Obama.
All the hitman in the film are miserable and are constantly complaining about everything; which in a way makes them all the more human. Whether you like them or not, these guys will definitely entertain you with their very funny and quirky banter.
Pitt and Gandolfini are outstanding and the scenes they have to together are the best in the film.
I gave 'Killing Them Softly' which opens in theatres, Friday November 30, 2012...31/2 bagels out of 5.  John had a different take on the film.
Check out our video for more of our thoughts and his bagel rating.
Check out our video for more of our thoughts and please SUBSCRIBE to our channel on YouTube and LIKE us on our Two Jews on Film Facebook page. Thanks everyone.