Review: K. Michelle Has A 'Rebellious Soul'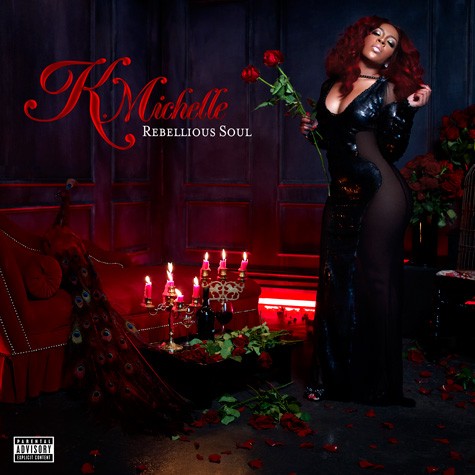 There's little wrong with K. Michelle's rebellious spirit…for the most part
K. Michelle can sing…like really sing.  The problem with the 'rebellious soul' singer is that she's just that – rebellious.  Sure, R&B has become accustomed to some colorful words and of course more graphic sensuality, but one has to wonder if Michelle (and others) toned it down sometimes if there effectiveness would actually grow stronger.  Regardless whether she takes things to a level of ghetto love on "Pay My Bills", Michelle does possess the goods beyond that rough and tumble package.  Among her best moves was to eliminate such brash numbers like "Kiss My A**" or "I Just Wanna" – and you can figure out where she was going with the last one!
"My Life" feels like Mary J. Blige and Keyshia Cole's brand of hip-hop soul.  All in all, its a sound opener that well produced and very much an R&B cut, but it's not a home run.  Michelle saves that for the fine "Damn", where the brutally frank singer doesn't hold back her emotions: "This is not the time to be sitting at home crying / while your a$$ is out here lying / hang it up you can stop your trying / I'm giving up, I'm done with love." She brings all her feelings full circle on the chorus, opening with the line "Damn, I'm feeling some kind of way…" Regardless of Michelle's uncertainty, I'm pretty certain she's doing her thing here.
She doesn't quite recreate the same elite status on "I Don't Like Me", but she continues to compel with exceptional vocal nuances, not to mention pleasant piano and string driven production work.  She's feisty and trill on "Can't Raise A Man", which is very much an adult contemporary R&B track at its epitomization.  The best line comes at the end of the verses, when Michelle states "…these are the signs of a grown a$$ boy / better run for the hills I'm just trying to keep it real…"
On the chorus, she cleans it up, stating "You can't raise a man he's already grown what you gonna do? / you wonder why he acts like a boy if he wasn't raised right before you / girl you ain't never gonna change nobody if he don't wanna…" Amen, sister, amen.  What better way to keep the momentum going with the passionate "V.S.O.P." where Michelle states the night is going to be "very special" numerous times.  Indeed, "V.S.O.P." is one very special number.
Album Review Continued On Page 2