Review: John Mayer's 'Paradise Valley' Delivers With Refined Vocals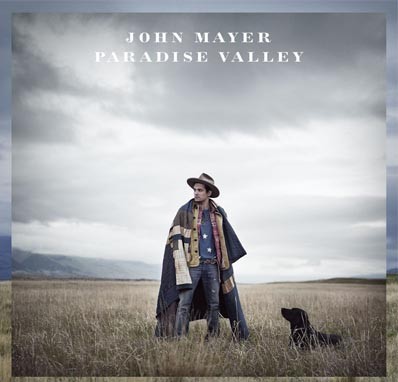 A John Mayer album always draws its fair share of buzz, period.  2012 effort Born and Raised didn't quite wrangle in the same hype of previous efforts such as Heavier Things (2003) or Continuum (2006), but it stilled managed a healthy debut at number one. 2013 effort Paradise Valley also doesn't have the same buzz of Mayer's past, but still sets up exceptionally for Mayer to achieve success.  Overall, Paradise Valley is a solid album, though still doesn't reach his career high watermark, the exceptional bluesy Continuum.  But like everything Mayer has released, the consistency is remarkable.
Second single "Wildfire" begins things superbly, courtesy of its soulful-countrified, bluesy groove and memorable songwriting. The chorus is particularly catchy: "You look fine, fine, fine / put your feet up next to mine / we can watch that borderline get higher and higher / say, say, say / ain't it been some kind of day / you and me been catching on like a wildfire".  Indeed John, indeed.  I mean after all, "…summer's what the whole year's all about'.  "Dear Marie" doesn't quite supersede the brilliant opener, but does remain consistent and alluring.  Written in singer/songwriter fashion with a folk-country sensibility, Mayer continues to impress lyrically, even with the absence of a chorus ("From time to time / I go looking for your photograph online / some county judge in Ohio is all I ever find…").  Ultimately, Mayer gets off to a nice start.
"Waitin' On The Day" doesn't kill any vibe, though at four and a half minutes, Mayer drags out the solid cut a bit longer than necessary.  Regardless, "Waitin' On The Day" continues to benefit from solid songwriting ("I'm waiting on the day / when the voice comes to sing / it's not wrong what you did / for just a kiss"), brilliant guitar contributions, and solid vocals.  Promo single "Paper Doll" is stronger in all facets, particularly the songwriting, which is among the album's best.  "You're like twenty-two girls in one / and none of them know what you're runnin' from / was it just too far to fall? / for a paper doll".  The final verse of "Paper Doll" lifts from "Rockabye Baby" ("…and if the angel wings don't fly / someone's gonna paint you another sky").
Rock on John, rock on.
"Call Me The Breeze" finds Mayer covering the late J.J. Cale penned "Call Me The Breeze" both exceptionally and unsurprisingly.  Mayer excels at covering blues/blues-rock cuts after all.  "Who You Love", Mayer's duet with his wifey… err girlfriend Katy Perry shouldn't work, but it kinda does! Sure, if Perry weren't Mayer's girl, I'd opt for a differing duet partner, but her verse definitely stands out contextually: "My boy ain't the one that I saw coming / and some have said his heart's too hot to hold / and it takes a little time / but you should see him when / you never want to let that feeling go…" When the two actually sing together, the chemistry is there.
It doesn't hurt to keep the momentum going with another successive standout, "I Will Be Found (Lost At Sea)".  The chorus is simple, but has more weight than one would expect: "But I will be found…when my times comes down / but I will be found…" He seals the deal throughout, with such thoughtful moments like "I saw her face and I could tell / my ghost had left the town as well…" or "Baby I'm a runaway train / baby I'm a feather in a hurricane…" There it is . Frank Ocean guests on interlude "Wildfire", a reciprocating gesture from Ocean's channel Orange.  Does it pack a punch? Eh. It's a moment for sure, but I don't think anyone would've blinked an eye with its exclusion.
The close of Paradise Valley isn't too shabby, nor is it the 'cream of the crop'.  "You're No One ' Til Somebody Lets You Down" is enjoyable, if a bit of a lightweight.  "Badge And Gun" continues Mayer's love of  the country and  folk combination, wit his vocal tone sounding magnificent and beautiful.  Concluding cut "On The Way Home" is above average, though not spectacular.  As with everything else, it is consistent and pleasant.
For the most part, Paradise Valley rocks. Sure, it's not always 'overt' or 'in your face' material, but Mayer sounds refined vocally and as always delivers with his guitar skill.  Musicianship remains lofty, even if towards the end Perry's boo could stand to infuse some of his hot-heartedness to add even more excitability.  Ultimately, I'm on board.  You should be too.
Favorites: "Wildfire"; "Paper Doll"; "Who You Love"; "I Will Be Found (Lost At Sea)" 
Verdict: ✰✰✰✰
John Mayer Does John Mayer, and quite well…
John Mayer|Paradise Valley| Columbia| US Release Date: August 20, 2013