Review: John Legend, 'Love In The Future'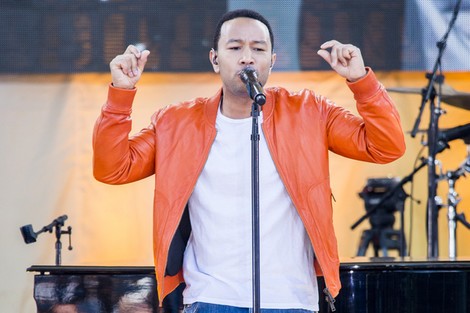 The gap between John Legend's solo albums has been a staggering five years! UGH! Sure, we haven't been without those soulful pipes completely, but Evolver was the last 'Legend' album itself.  And arguably on that effort, Legend wasn't even his traditional self necessarily, eschewing neo-soul for the more trendy contemporary R&B of the time.  Now it's 2013 and neo-soul has been six-feet under – nobody's doing it anymore, much to my chagrin.  Another Evolver certainly wasn't the proper direction for a singer who thrives from his gospel-infused runs, regardless whether "Green Light" was a welcome departure.  Love In The Future takes an exceptional overall approach at reintroducing John Legend as a solo artist, planting him firmly in the refined adult contemporary R&B style coupled with modern R&B and pop/rock cues.
"Love In The Future (Intro)" establishes the tone, foreshadowing the love-centric theme of the album. Built in that pop/rock-soul idiom, think "Show Me" from Legend's Once Again (2006).  "The Beginning" proceeds, finding Legend locked into a committed relationship whether its his adulation ("Soon as I saw you baby, I had plans / plans to do it 'til we have a baby…") or later the progression of such a relationship ("Last time was the last time / I was one and done / you da best / that's why I want another one…"). Ultimately, "The Beginning" is a fine and respectable cut, but also quite 'committed' to start the relationship… or album… or something like that.  "Open Your Eyes", a smart cover of Bobby Caldwell (Cat in the Hat, 1980) follows, continuing to show off Legend's soulful pipes and consistent maturity as an artist.  Chris Sholar's guitar solo towards the end gives the cut some of that cool, 80s rock grit.  The vocal production is definitely a strong suit on this particular number.
Love In The Future truly takes off with three heavyweights in "Made To Love", "Who Do We Think We Are?" and "All Of Me".  "Made To Love" brilliantly samples "Video Clash" (Lil Louis) and brings odd-ball, alt-pop singer Kimbra onboard.  Contemporary with ultra-rhythmic, pummeling drums yet firmly planted in soul, "Made To Love" is one of Legend's more distinct cuts.  The brilliant, sample-reliant "Who Do We Think We Are" finds Legend impressing lyrically, with many lines interpretable to multiple meanings including "We love, we love, we love the stars / we could fall so hard…" or "I…I'm not afraid to fly / here we are in the air barely breathing and we're not afraid to die…" Is it stardom, merely living up life, or literally getting high of which he refers? Rick Ross is 'balling hard' on his verse, closing with a bang: "She gets Chanel / Ski trips to Vail / only the highest grade like trees that I inhale".  The thoughtful, lovely "All Of Me" strips down to piano, vocals, and 'robots', with sensational results. "Cuz all of me loves all of you / love your curves and all your edges / all your perfect imperfections."
"Hold On Longer" can't top any of those three, but continues an impressive showing by Legend, despite its brevity.  "Save The Night" brings in a superb, buttressing beat, along with gospel-fueled pianistic lines.  Among the best lyrical moments? "I'm not a one man band / I wanna sing a duet / you and me would sound much betta / you'd look so good in my bed." "Tomorrow" is a definite keeper with its Dr. John sample ("Glowin'") and Legend reaching for his chilling falsetto.  "Don't wait 'til tomorrow / we waited all our lives / don't wasted another day", he sings on the memorable chorus.
"What If I Told You? (Interlude)" foreshadows the ambitious, yet simple "Dreams" .  "Dreams" lacks the development of better cuts, but still manages to allure.  "Wanna Be Loved" falls into a similar boat, captivating considerably with out matching the grandeur of the likes of "Made To Love", "Who Do We Think We Are?" or "All of Me".  "Angel (Interlude)" is a nice if brief moment, featuring Stacy Barthe.  It leads into the lovely "You & I (Nobody In The World)", which continues to showcase a classy JL.  "Asylum" is John Legend's brand of modern R&B, delivering an ambitious showing that may slightly overreach but definitely is worthy at high marks for the attempt.  "Oh we landed / on another planet / and it feels like home here…", Legend sings of the 'love'.  Closer "Caught Up" again thinks towards the future with its modern R&B cues – and that does NOT mean pop or electro-based approaches!
Ultimately, Love in the Future is one heck of an R&B album.  Perhaps it overindulges in romance the slightest bit, but at least Legend portrays love as the beautiful, emotionally-based thing that it is and doesn't equate it to merely hooking up.  This is an album for the mature, intellectual listener; the hopeless romantic, passionate driven lover.  It receives my seal of approval.
Favorites: "The Beginning"; "Made To Love"; "Who Do We Think We Are?"; "All of Me"; "Tomorrow" 
Verdict: ✰✰✰✰
John Legend Makes Genuine Love Sound Both Respectable and Desirable on Love In The Future 
John Legend | Love In The Future | Columbia | US Release Date: September 3, 2013