Review: Jeff Nichols Brilliant 'Mud' Explores The Good, Bad And Ugly Of Love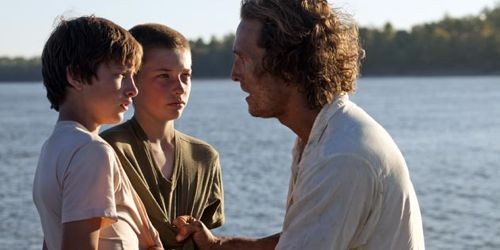 Throughout cinema history there have been countless films about the power of love.  Romance, relationships and marriage most certainly lend themselves to be explored on the big screen for all to see.  But the difference within the third remarkable five-star outing from Jeff Nichols titled "Mud" is that the notorious heartfelt emotion is finally explored in all its facets and on all levels – it's the good the bad and the ugly of adoration.
Young boys and friends Ellis and Neckbone are typical kids looking for adventure in Arkansas.  But they find themselves getting more than their fare share when they head out to a seemingly deserted island in the Mississippi and come across a hiding fugitive name of Mud.  A man waiting to connect with his lady love Juniper, Mud tells the impressionable youths tales of woe and love to woo them into helping him.  Soon he enlists the help of the wide-eyed boys to both help him get an abandoned boat back in the water and take his gal with him before local bounty hunters find them all.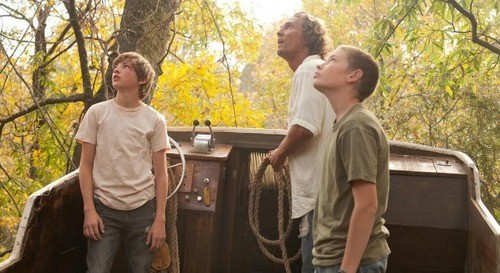 There may be simplicity in the story details but don't be fooled ad there's a myriad of emotional range within "Mud."  Not at all unlike is previous films (more so "Shotgun Stories" then "Take Shelter") Nichols continues to take his storytelling time and with the layered "Mud" it's a material match made in heaven.  Though what's most remarkable about "Mud" is finally seeing an honest look at love from every possible angle – family love, friendship, romantic love and all its eventual ups and downs.  Never one to shy away from material with moxie, "Mud" is Nichols most bold move to date and the emotional wallop on the audience is unlike any in recent years.  And while his former muse Michael Shannon does have a small but memorable part in this outing, it's the nuanced work of a highly underrated Matthew McConaughey that drives "Mud."  As an aging man holding onto the idea of a perfect love and soul mates, McConaughey delivers a performance so affecting it breaks your heart.  Everyone else is cast perfectly no doubt – young Tye Sheridan as the optimistic Ellis, Reese Witherspoon as the object of McConaughey's affections and Sarah Paulson and Ray McKinnon as Ellis's troubled parents – but there's simply no denying that this film belongs to McConaughey.
Having been a loud voice in a small room back in 2007 for the five-star "Shotgun Stories" (I even told Leonard Maltin about it who at the time claimed he 'had never heard of it'!), I've never been surprised by the genius of Jeff Nichols.  As one of the few filmmakers left who dares to take time, boldly goes into deep character waters and tackles familiar subjects with unwavering originality, Nichols is the last of the finest in American directors.  And in Nichols' hands "Mud" is more than a movie, it's a deep examination of what love means and the effect it has on the decisions we make and the people we become.  True love may be fleeting, but the talent of Nichols is here to stay.    
"MUD" OPENS IN SELECT THEATERS APRIL 26 FROM LIONSGATE AND ROADSIDE ATTRACTIONS.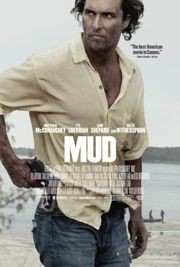 Title: "Mud"
   Stars: 5
   Genre: Drama
   Cast: Matthew McConaughey, Tye Sheridan, Reese Witherspoon
   Director: Jeff Nichols
   Rating: PG-13
   Running Time: 130 Minutes
   Release Company: Lionsgate/Roadside Attractions
   Website: http://mud-themovie.com