Review: In Comedy And Music 'Brooklyn Brothers Beat The Best' Dares To Be Real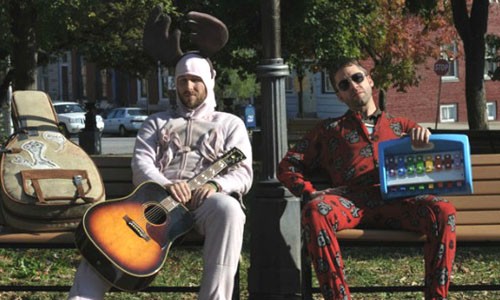 Sometimes when movies dare to hold up a mirror, it provides more than just something to watch.  It can make the viewer feel the pain, sorrow and depression of characters within, and on the flip side can also engage you in their small triumphs.  The beauty of "Brooklyn Brothers Beat the Best" is how even in the midst of inane comedy and captivating music it dares to be real and it's in this arena of authentic that it becomes the flick to beat.   
Alex is a sullen singer-songwriter with little luck.  He has been kicked out of many bands, his girlfriend is moving on and the only time he gets to play music is as a moose for uninspired kids who aren't listening.  Enter Jim.  He's a seemingly happy and crazy man with the same band problems as Alex, but with a much more can do attitude.  So the two decide to team up, Alex on guitar and Jim playing various tot toys via Toys R Us and make some music while also unwittingly dealing with life head on.
My description sounds a tad dramatic, but I assure you "Brooklyn Brothers Beat the Best" is steeped in both wry and witty humor.  The comedic teaming of a delightfully dour Ryan O'Nan and an inspired insane Michael Weston makes for some sweet music.  Plus their timing reminded me of the fabulous work of a low-key Henry Winkler and high-strung Michael Keaton in Ron Howard's "Night Shift," but with O'Nan and Weston the chemistry comes from a more organic place.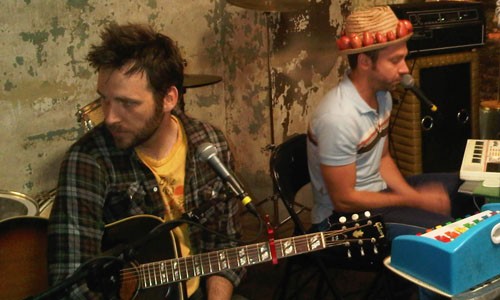 Ultimately though what keeps the film elevated emotionally is not only the charming relationship between the guys and sassy manager Arielle Kebbel, but surprisingly the music itself.  Using both lyrics with actual meaning and a healthy dose of kid instruments makes for an uncanny sound that permeates all the senses – it's the true heart of Brooklyn Brothers.
There are some great turns by folks like Christopher McDonald (he always plays a great sleaze!), Jason Ritter (can that guy do no wrong?), Wilmer Valderrama and an especially effective Andrew McCarthy as a protective brother, but frankly this flick belongs to O'Nan and Weston.  And while the long title may seemingly promote a competitive nature, what's most appealing about these non-blood brothers is that they have no need to beat the best – they just want to play.   
"BROOKLYN BROTHERS BEAT THE BEST" HITS THEATERS SEPT. 28 FROM OSCILLOSCOPE FILMS.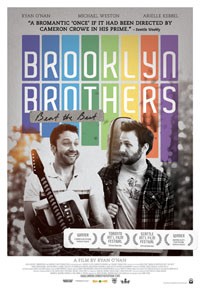 Title: "Brooklyn Brothers Beat the Best"
   Stars: 4
   Genre: Comedy/Drama
   Cast: Ryan O'Nan, Michael Weston, Arielle Kebbel
   Director: Ryan O'Nan
   Rating: Unrated
   Running Time: 98 Minutes
   Release Company: Oscilloscope Laboratories
   Website: http://brooklynbrothersmovie.com/