Review: 'Hyde Park On The Hudson' Sex, Politics And Bill Murray As FDR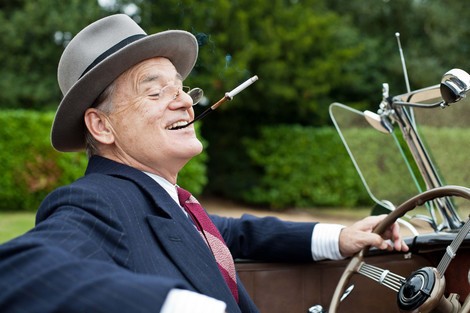 'Hyde Park on the Hudson' is the story of a love affair between FDR (Bill Murray) and his distant cousin, Margaret Stuckley (Laura Linney) centered around a weekend in 1939, when King George VI (Samuel West) and his wife, Queen Elizabeth (Olivia Coleman) came to visit.
George is in the United States to ask Roosevelt for financial help with Britain's impending war with Germany. By the way, this is the same King George that took center stage in 'The King's Speech.  That's right the King who stuttered.
The film was directed by Roger Michell ('Notting Hill') and written by Richard Nelson.  It's a very insightful film into the man that got the country out of the depression and into WW2.  
FDR is laid back, funny, shrewd and a total player.  This guy loved the ladies and apparently, even though he was confined to a wheel chair from being stricken with polio as a child, he never let his handicap stop him from getting it on with lots of babes; including his long time assistant/secretary, Missy (Elizabeth Marvel).
Unfortunately Eleanor (Olivia Williams) knew all about his affairs, but like all good and loyal 'first ladies' she stayed by her husband's side and made the best of it.  Of course she was a great woman in her own right, but that's another movie.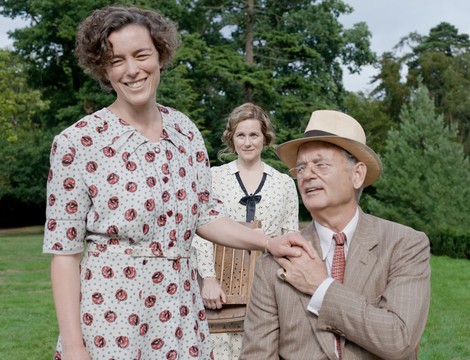 The film opens with Roosevelt summoning Margaret to his vacation home in Hyde Park on the Hudson. She's quite surprised by the invite since she hasn't seen the President in years.
The Commander In Chief starts his seduction by showing Margaret his stamp collection, followed by long drives in the country and finally, FDR, ever so delicately takes Margaret's hand and places it on his...well you can use your imagination from here.
The main reason to see this film of course is Bill Murray's excellent performance as Roosevelt.  Quite a stretch from the guy we first met on Saturday Night Live.  
This is also a film for anyone who loves history, which I do and for that reason I gave 'Hyde Park On The Hudson' which opens in theatres, Friday December 7th... 31/2 bagels out of 5.
Check out our video for John's bagel score and for more of our thoughts.
Please SUBSCRIBE to our channel on YouTube and LIKE us on our Two Jews on Film Facebook page. Let us know what you think of this film. Thanks everyone.