Review: Horror Of 'Don't Be Afraid Of The Dark' As Hollow As A Hallway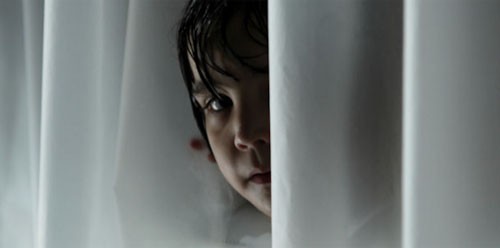 There are a few surefire elements that can make a horror film satisfying.  The adrenaline rush that comes with good scares, the sight of some lingering blood and guts effects or even characters so complex and real that an audience can't help but come along for the ride.  "Don't Be Afraid of the Dark" is a rare genre flick with none of the above and don't let the large print Guillermo del Toro presents banner fool you – comic book artist turned director Troy Nixey gets all the credit for this colossal waste of space.
Young girl Sally moves into a house that is being remodeled by her dad and his new girlfriend.  Seems her real mom has chose to abandon the tot and dad gets duty with the distant child.  But there are strange things past and present going on within the house they are inhabiting and young Sally finds herself at first intrigued and then horrified by some mysterious creatures that live in the bowels of the basement.  Soon it becomes a fight for life as the true nature of their demonic existence becomes clear.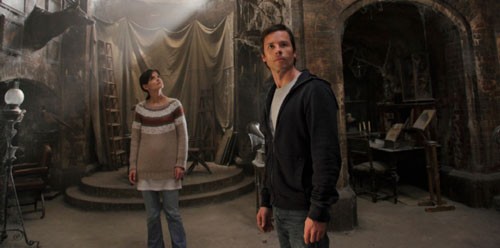 The description above makes "Don't Be Afraid of the Dark" sound much more layered and nuanced then it really is – in actual fact the film is as hollow as a hallway.  Filled with a hollow script (there are plot holes and unanswered questions galore!), hollow scares (the little creatures look like "Barney Miller's" Abe Vigoda mixed with a bad Belial from "Basket Case!") and most notably hollow performances (all involved walk through this one like a bad acting exercise!), I can only surmise that it all stems from the amateur (and unoriginal!) direction of Nixey.  (Anyone who can make the ever-amazing Guy "Memento" Pearce give a terrible surface performance has no business making movies!)  Not to mention the fact that if imitation is the sincerest form of flattery, then Nixey owes del Toro a sincere apology.  Using his name, script and even a bad imitation of his signature fairytale like style, Nixey shows no shame in copying and raping the ever-creative del Toro of everything and anything that made him a notable visual artist.  (aka come up with your own goods Troy!)
I don't mean to come off too harsh, but this is one flick deserving of a little negative cinematic backlash.  As a film that simply exists to frustrate, annoy and downright insult a paying audience (no scares, no thrills and no brains equals no bucks!), "Don't Be Afraid of the Dark" is a rare movie that earns every ounce of it's zero star accolades.  In defiantly taking ninety-nine minutes of my life I will never get back again, I say don't alright - don't be afraid to walk out and ask for your hard earned money back.
"DON'T BE AFRAID OF THE DARK" OPENS AUGUST 26TH FROM MIRAMAX FILMS
__________________________________________________________________________________________________________________________________________________________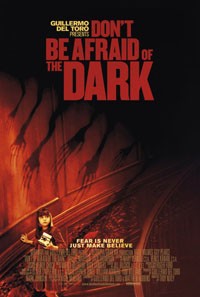 Title: "Don't Be Afraid of the Dark"
   Stars: 0
   Genre: Drama/Horror/Thriller
   Cast: Guy Pearce, Katie Holmes, Bailee Madison
   Director: Troy Nixey
   Rating: R
   Running Time: 99 minutes
   Release Company: Miramax Films
   Website: http://www.dontbeafraidofthedark.com/