Review: 'Hitchcock' Is A Fascinating Look Into The Man That Changed Cinema Forever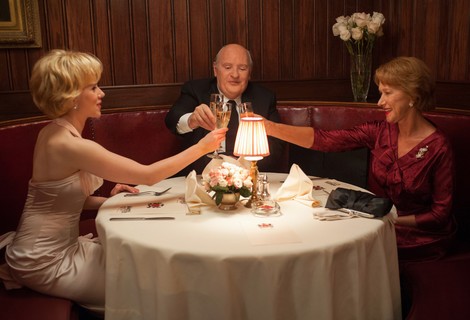 Looking back at Hitchcock's film 'Psycho' you can't help but wonder - what's all the fuss? Compared to all the violence, gore and torture we see in movies nowadays, 'Psycho' was tame.
But 1959 was a very different time and when 'Psycho' premiered in 1960, the film was groundbreaking in every way. Nothing like 'Psycho' had ever been done before and it scared the hell out of people.
'Hitchcock,' directed by Sasha Gervasi (Anvil), stars Sir Anthony Hopkins as Alfred Hitchcock and Dame Helen Mirren as his wife Alma Reville; the woman behind the genius.
The story starts in 1959...Hitchcock has just come off the success of 'North by Northwest' and he wants to do something different - something that will blow people away and prove to the critics that 'he still has the stuff.'
He reads about a man named Ed Gein, a serial killer and transvestite who lived with his dead mother. Hey, nobody is perfect.  Gein's story inspired Robert Block's novel 'Psycho.'
Hitch is determined to make this his next movie. It might have something to do with the fact that he carries on numerous imaginary conversations with Mr. Gein. 
He brings this idea to Barney Balaban (Richard Portnow) who is the head of Paramount. Even though Alfred has done over 40 movies with the studio, Barney basically says 'no way are we making this piece of garbage.'
So what does Mr. Hitchcock do? He Mortgages his house with Alma's blessing and puts up $800.000 of his own money for 40 percent of the profits. The rest is history.
'Hitchcock' is not only about the making of 'Psycho' it's also the story about Hitch's complex relationship with his wife Alma - a writer and editor in her right.  And it's a really good story. It's obvious he loved her but it's just as obvious that at times, he acted as if Alma didn't exist.  
Too say Mr. H was an eccentric narcissist is pretty accurate.
The film was written by John McLaughlin ('Black Swan') and is based on the book 'Alfred Hitchcock and the making of Psycho' by Stephen Rebello.
The cast is fantastic...James D'Arcy is dead on as Anthony Perkins. Scarlett Johansson is perfect in capturing the sweetness of Janet Leigh and Jessica Biel is excellent as actress Vera Miles; who Hitch had a very contentious relationship with.
Also, I loved Toni Collette as Hitch's long time secretary Peggy Robertson.
Michael Wincott does a great job as Ed Gein as does Danny Huston, who plays writer Whitfield Cook ('Stranger on a Train') - whom Alma starved as a creative outlet. Her collaborations with him on a project caused Hitch to go deliciously mad with jealousy.
'Hitchcock' gives us a fascinating look into a difficult, complex and visionary man that changed cinema forever.
Even though Sir Anthony wears a facial prosthetic, a hairpiece and blue contact lenses to resemble Hitchcock, it's his acting that shines through and brings Hitch to life.
Of course as always Helen Mirren gives a beautiful performance as Hitch's talented but underappreciated wife.
'Hitchcock' opens on Friday, November 23, 2012 and it's a must see for anyone who is a film buff or just likes to be entertained.
I gave this film 4 1/2 bagels out of 5 and John was just a bagel short of my score.  
Check out our video for more of our thoughts and please SUBSCRIBE to our channel on YouTube and LIKE us on our Two Jews on Film Facebook page. Also let us know what you think about 'Hitchcock.'
Thanks everyone and Happy Thanksgiving.