Review: 'Here Comes The Boom' A Family Fun Feel Good Comedy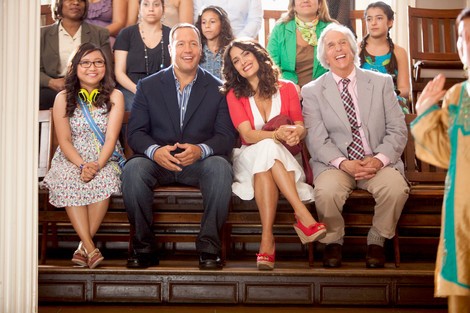 Ten years ago, Scott Voss (Kevin James) was an excellent high school biology teacher. He was even voted 'Teacher of the Year'.

But ten years is a long time. FLASH forward to the present...Scott couldn't care less about teaching. He works only to bring home a paycheck and is completely disillusioned with a school system that treats students like 'cattle'...who's only interested in moving them in and out, as quickly and as cheaply as possible.
To make matters worse, a budget crisis hits the school and by the end of the year, all extracurricular activities (except football, of course) will be cut; including the Music department run by beloved teacher, Marty (Henry Winkler). This means that Marty, whose wife is expecting a baby, will lose his job as well as tenure.

For some reason, this wakes up the apathetic Scott and he tries to rally the other teachers and the staff to help him raise the $48,000 needed to keep the department going.

Unfortunately, the only person interested in helping is Bella (Salma Hayek), the school nurse; who Scott has been trying to date for over a year, only to get shot down by her over and over again.
Scott even takes a night job teaching citizenship to immigrants for some extra money. It's here that he meets ex Mix Martial Arts fighter, Nikko (Bas Rutten). Nikko needs some extra help in learning the finer points of our government, so Scott agrees to tutor him.

When he goes over Nikko's house for their first lesson, he finds the fighter and several of his friends watching the UFC fight from Vegas on the TV. 

To his amazement, Voss discovers that a fighter can make up to $10,000 just for competing in one of these fights, and that's if he...loses.

Right then and there Scott, who just happens to be an ex college wrestling champ, realizes that this is the answer to the school's money problems. Scott will become a MMA fighter, compete in Vegas. Oh and, Nikko will become his trainer.

Piece of cake right? 

Not exactly and that's what makes 'Here Comes The Boom' directed by Frank Coraci and written by Kevin James, Allan Loeb and Rock Reuben, a funny and yes, heartwarming film about how, it's never to late to go after your dream, even if everyone around you thinks you're nuts.

Yes, this film may be a little corny, predictable and yes...we've seen it before with the 'Rocky' franchise, 'Remember the Titans' and countless other films. 

It's the classic story of the underdog beating the odds. But so what? The formula still works and in this crazy world, I believe that there's always room for one more 'feel good' movie and for that reason...

I gave 'Here Comes the Boom' which opens in theatres, Friday, October 12, 2012...4 bagels out of 5.
John, on the other hand did not share my POV.  Check out our video to see what he thought and oh, yes...to hear him sing.
Two Jews on Film - By Joan Alperin-Schwartz
Please SUBSCRIBE to our channel on YouTube and LIKE us on our Two Jews on Film Facebook page. Thanks everyone.