Review: 'Her' Is A Wonderful, Quirky Sci-fi Romantic Fantasy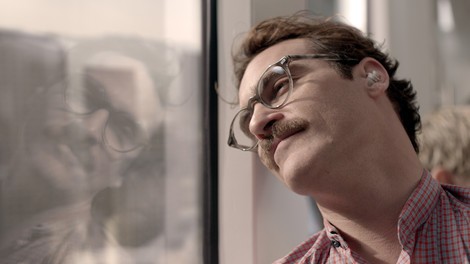 Do you love Apple's 'Siri'? Ever thought about having a relationship with her?

Probably not, but in Spike Jonze new film 'Her' - set in the near future - that's exactly what happens to Theodore Twombly, (Joaquin Phoenix); a lonely shy man going through a painful divorce from his wife, Catherine (Rooney Mara).

Theodore works for BeautifulHandwrittenLetters.com, where he hand writes personal letters for his customers in their own handwriting.

He lives a solitary existence in downtown Los Angeles. One evening, while playing a computer game, Theodore discovers a brand new artificial, intelligence operating system, aka (OS1), that promises to give a very personal connection to its user.

Without hesitation, Theodore boots up the OS1 and after filing out a short psychological profile, he's greeted by a very friendly and very sexy female voice named Samantha (voiced perfectly by Scarlett Johansson).

Samantha is designed to behave exactly like a human female. She feels and expresses an assortment of emotions including wonder, excitement, anger, passion, and boredom. Even though Sam doesn't have a body, this gal definitely has very strong sexual urges.
Samantha also has a great desire to explore the world and Theodore is only to happy to oblige. They start dating, even going on a picnic with another couple and it doesn't take long before, Theodore and Samantha fall deeply in love with each other.
Now if you think love with a real human is difficult, try being in love with an OS, with an unlimited capacity to learn.
What's amazing or maybe not so amazing, considering our own affection for our various technical gadgets, is how accepting Theodore's friends are of his relationship with Samantha; including his gal pal, Amy (
Amy Adams
).
This unique, wonderful, quirky sci-fi romantic fantasy totally won me over, making it my fourth favorite film of 2013.
'Her' opened in select theatres, December 25, 2014 and expands nationally on January 10, 2014.
I gave 'Her' five bagels out of five - of course, just like John, my guest reviewer Marilyn, had a slightly different opinion of the film.
Check out our video to see her bagel score and for more of our thoughts.
Please SUBSCRIBE to our channel on YouTube and LIKE us on our Two Jews on Film Facebook page.
Thanks everyone, let us know what you think.