Review: Grindhouse Inspired 'Dust Up' Takes Pride Pushing Boundaries In The Name Of Movie Joy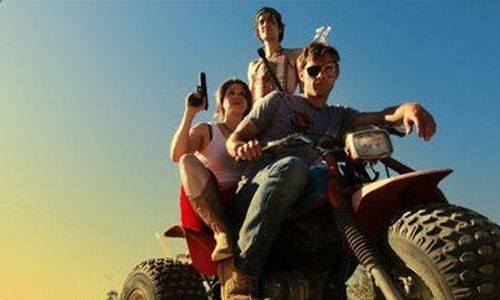 Sadly, there really hasn't been a ton of saucy cinematic product for 2012.  Nothing that screamed top ten list and as always what's catching critical attention seems to be more standard stuff.  So imagine my surprise when a recent ruckus, dirty, nasty, sadistic, shocking and funny five-star outing reared its head and crashed its way onto my list – meet "Dust Up."  Full of all the things your mom doesn't like, it's a movie that lovingly takes pride in pushing the boundaries of grindhouse good taste all in the name of movie joy.  An exploitation flick, cowboy outing and buddy/buddy comedy with it's fair share of kills, thrills and spills, "Dust Up" fills the unconventional movie gap just in time - think "Hobo With A Shotgun" for 2012.
Jack is an ex-military man who is haunted by his past and tries to lead a quiet life with his wise Indian pal Mo.  But he finds his idyllic setting breached by the likes of newbie mom Ella and her deadbeat husband Herman, the latter whom owes big money for a crack debt to vile town gangster named Buzz.  So in an act of both bravery and stupidity, Jack and Mo decide to take up the cause of this broken family and find themselves in a heap of trouble.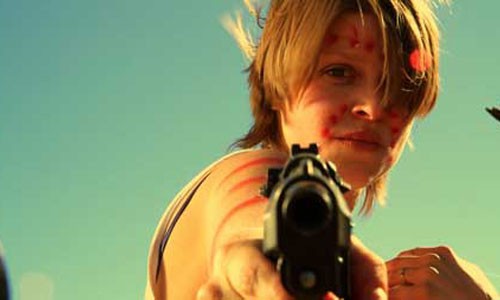 If you realize that by trouble I mean anything from masturbation death to human kabobs, then the above description is dead on.  Take heed - for those looking for "Sense and Sensibility" refinement this one is not going to be your cup of English tea.  But for those out for blood, guts and an eye patch that kicks ass, "Dust Up" is your second coming.  Director Ward Roberts lovingly guides the eager viewer down a path of debauchery, machismo and hilarity to a full sadistic stop – and then goes even further.  It's in this area that "Dust Up" goes way past other B-movie fare and shows true exploitation prowess befitting of a midnight show cult classic.  The cast only enhances the unconventional vision including Aaron Gaffey as the surly man with a past (think Snake Plissken mixed with Clint Eastwood's man with no name!), Devin Barry as his trusty sidekick (is that guy even Native American – who cares!) and especially the Jeremiah Birkett as the outrageous Buzz.  (It's a no fear performance if ever there was one - bravo!)  All kick up some serious soil to give "Dust Up" its cool cloud.
Is "Dust Up" rude?  Certainly.  Is it disgusting?  Most definitely.  But is it also a great example of what having fun at the movies is really all about when you buck the status quo?  You bet your sweet ass it is.  In the realm of five-star stunners with an edge, "Dust Up" cleans up.
"DUST UP" HAS ITS WORLD PREMIERE FRIDAY, SEPT. 28 AT LAEMMLE MUSIC HALL IN LA AND THEN HITS SELECT THEATERS.  ALSO GOES ON DEMAND OCT.2 AND HITS DVD NOV. 13.  FOR MORE DETAILS GO TO: WWW.DUSTUPFILM.COM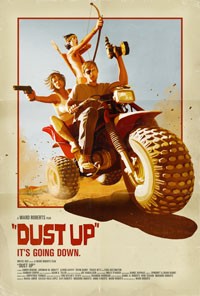 Title: "Dust Up"
   Stars: 5
   Genre: Action/Comedy/Exploitation
   Cast: Aaron Gaffey, Devin Barry, Amber Benson
   Director: Ward Roberts
   Rating: Unrated
   Running Time: 90 Minutes
   Release Company: Breaking Glass Pictures
   Website: http://dustupfilm.com/