Review: 'Griff The Invisible' Speaks To The Strange Dreamer Inside Us All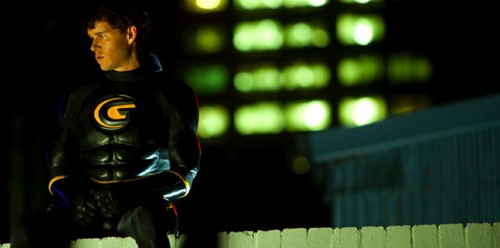 A cross between "Kick Ass" and the Michael Rapaport flick "Special," "Griff the Invisible" is one wonderfully odd egg.  It seems to almost celebrate both the coolness of being a super hero and the absurdity of it in one complex and strange outing that speaks to the dreamer inside us all.
Griff is an average schlub who isn't all that happy with his life; he keeps mostly to himself, tries to avoid co-workers and settles for a job that is far from fulfilling.  But it's during the dark of night that the real Griff emerges, as he dons a Batman-esk rubber suit and hit the streets in search of crime and punishment.  He eventually ends up catching the eye of an equally quirky gal named Melody, who also happens to be dating Griff's brother, and the two end up finding solace and love in their unusual worlds of make believe.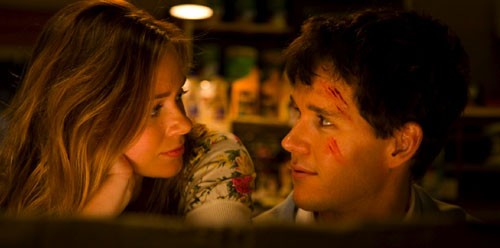 It all sounds sweet, and there are a lot of romantic overtones in the film, but Griff is first and foremost a flick about trying to escape.  Escape the mundane, the day-to-day grind and even escape from ourselves.  Griff is an obviously emotionally troubled man who is trying to flee the real world (he is ever-obsessed with finding a suit to make him invisible – metaphor or what?!) and it would be heartbreaking if it weren't so damn inspiring.  As the emotionally detached Griff, Ryan Kwanten plays the character almost like a robot, which plays in fantastic contrast to Maeve Dermody's inquisitive Melody and the two make one beautiful and bizarre couple  – love does makes strange bedfellows.
But take heed – if you're just looking for another "Mystery Men" type outing, Griff might be a bit to psychologically dark and real for you.  But for those who are willing to reach outside their comfort zone, there's a trip here worth taking.  Because within "Griff the Invisible's" neurosis, obsessions and world of make believe is also a unique place where everyone, especially the flawed, can be superheroes – love, cape, costume and all.
GRIFF THE INVISIBLE OPENS IN SELECT THEATERS ON AUGUST 19 FROM INDOMINA
_______________________________________________________________________________________________________________________________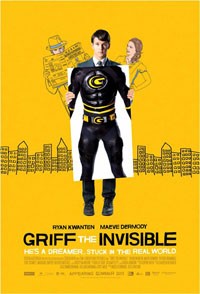 Title: "Griff The Invisible"
   Stars: 4
   Genre: Drama/Action/Comedy
   Cast: Ryan Kwanten, Maeve Dermody, Marshall Napier
   Director: Leon Ford
   Rating: PG
   Running Time: 90 minutes
   Release Company: Indomina
   Website: http://www.grifftheinvisible.com/