Review 'Gangster Squad': Sean Penn Is Stellar As The Ruthless Mickey Cohen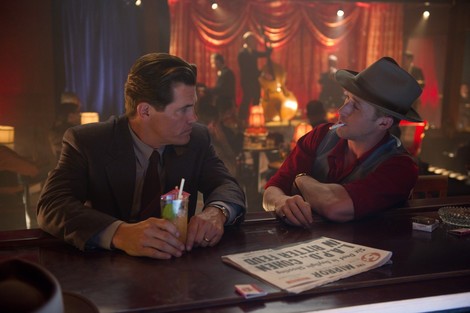 The year is 1949, the place Los Angeles and ruthless, sadistic, megalomaniac, Jewish gangster, Mickey Cohen (the brilliant Sean Penn) runs the show in this town.
We're talking drugs, guns, prostitutes, and if he had his way, every wire bet placed west of Chicago, would fall under his domain.

The guy is ruthless and a total nut job, completely lacking in charm. He's definitely no Michael Correleone.

To get an idea how Cohen's mind works, at some point in the film, he yells to his crew of killers:  ''You heard of Manifest Destiny? That's when you take what you can, when you can...And I'm gonna take it all and not just because I can, but because this is my destiny...Los Angeles is my destiny."

Cohen is a thug. He doesn't even know which fork to use when eating a salad. And the guy likes to eat out a lot. So not to embarrass himself, Cohen hires an etiquette coach (Emma Stone) Of course; she also becomes his unfortunate lover.

So how do you stop a monster that has practically every politician, cop, and judge in his pocket?

Luckily Chief of Police, Parker (Nick Nolte) has come up with a plan. He recruits an ex-war hero/LAPD Sgt. John O'Mara, (Josh Brolin) to put together a secret squad to bring Cohen down.

It doesn't take long for O'Mara to assemble the best of the best. Sgt. Jerry Wooters (Ryan Gosling) who just happens to be in love with Cohen's girl; electronics wiz, Conwell Keeler (Giovanni Ribisi); sharp shooter Max Kennard (Robert Patrick) and his side-kick, Navidad Ramirez (Michael Pena); and Officer Coleman Harris (Anthony Mackie) who patrols the streets of South Central.

O'Mara's motto: "We're not solving a case here. We're going to war." Their unofficial name is... 'The Gangster Squad' 

'Gangster Squad' is directed by Ruben Fleischer ('Zombieland') and written by Will Beal based on the book Gangster Squad by Paul Lieberman and it has all the ingredients you'd expect in this kind of film.

Over the top violence, fully developed characters, a bit of humor, buddy relationships and of course, a few very believable love stories. 

As for the production itself, production designer Maher Ahmad and editors Alan Baumgarten and James Herbert, as well as, Academy Award costume designer Mary Zophres, have done a brilliant job in recreating the Los Angeles of 1949.

From the sets, to the elegant night clubs, to the art deco buildings as well as the fabulous cars (why don't automobiles look like that anymore?), everything is authentic and transports us to the glamorous Golden Age of a time long ago.

'The Gangster Squad' gives us a glimpse into Los Angeles when it was still the wild wild west and Burbank was... just over the river.

The supporting cast including Mireille Enos ('The Killing') as Connie O'Mara, John's pregnant and super understanding wife, are all excellent.

I really enjoyed this film and gave 'Gangster Squad' which opens in theatres, January 11, 2012, four bagels out of five.

Check out our video for John's score and for more of our silly banter.
Please SUBSCRIBE to our channel on YouTube and LIKE us on our Two Jews on Film Facebook page. Thanks everyone.

Let us know what you think about this film.