Review: Five-Star 'I Declare War' A Bold Blend of Goonies And Platoon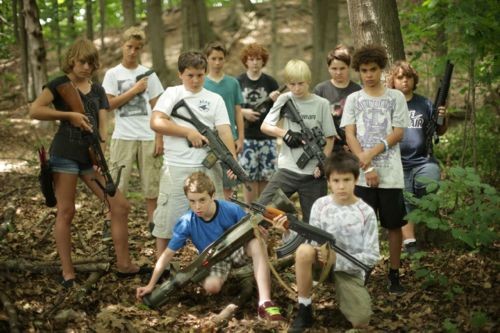 This summer of mindless movies had me seriously cinematically depressed.  Crappy action ("Pacific Rim" - what the frig happened Guillermo?!), senseless scripts (someone give Skip Woods a firm kick to the nuts and grab his WGA check!) and laughable acting (Johnny Depp as Tonto – great idea!) left the critic in me almost ready to pull the movie plug for good.  What a difference a little indie makes.  Here to save the summer, spice up the cinema and remind us why we love movies on the first place is the highly original five-star flick "I Declare War" and it's arrived (after being in limbo for a while!) just when we need it most.  With stellar comedy, action, drama and a pinch of pint-sized revenge, "I Declare War" is a bold and brilliant blend of "Goonies" and "Platoon" for the kid in us all – consider summer saved.
A group of 12-year-olds have made a tradition of playing a local game of Capture the Flag.  Two teams in a heavy forest armed with only twigs, a set of rules and their imaginations, the simple and safe kids game suddenly takes a wrong turn.  Alliances are challenged, friendships are pushed to the limit and manipulation and strategy become the catch of the day.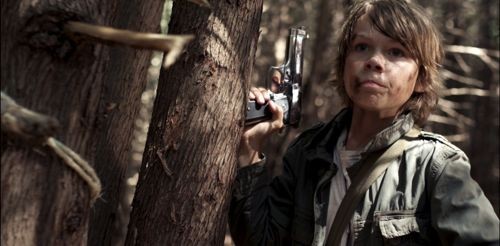 I so want to explain more and divulge the intricate plots twists, cool fantasy vs. reality imagery and dark examination of human nature, but then why would you need to go see "I Declare War?"  An experience like no other this year (top ten list for sure!), the film manages to capture a barrage of movie magic in a single picture and to say it's a fantastic feat would be an understatement.  For those who like to laugh, there's a distinctive "Monster Squad" like kid wit and comradery, while those looking for a little meat on their dramatic bone get plenty of child machismo on the form of real feeling war moments with a dark fairy tale like twist.  But beyond the masterful writing and directing (duo team Jason Lapeyre & Robert Wilson who must be geniuses – stay away from Hollywood guys!), this movie belongs to the kids and all provide something special.  Best of the bunch is Gage Munroe as the driven PK, Siam Yu as his innocent right hand man, Michael Friend (in a damn Oscar winning turn!) as the troubled and power-hungry Skinner and especially Mackenzie Munro as the cunning Jess.  (She's like a mini-Lady Macbeth!)
There's definitely some homage to great war films (Spencer Howes character sports the name Joker – the nickname of Matthew Modine's funnyman in "Full Metal Jacket!") and even the performances have a hint of past cinema greatness (PK and Skinner are like a pint-size version of Willem Dafoe and Tom Berenger in "Platoon!"), but in the end it's all original work that lovingly cleanses the cinematic palate.  (Think Lord of the Flies if it were cool!)  Stunning films are becoming a rare breed these days, but thankfully if you truly look they are still alive and kicking.  A little movie in a summer of studio overspending, "I Declare War" fights the familiar film battle of David and Goliath...and wins.    
"I DECLARE WAR" IS AVAILABLE VOD ON JULY 26 AND OPENS THEATRICALLY ON AUGUST 30 FROM DRAFTHOUSE FILMS.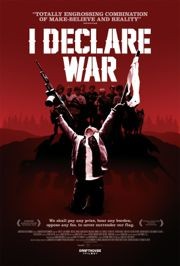 Title: "I Declare War"
   Stars: 5
   Genre: Action/Drama/Comedy
   Cast: Gage Munroe, Michael Friend, Mackenzie Munro
   Director: Jason Lapeyre & Robert Wilson
   Rating: Not Rated
   Running Time: 90 Minutes
   Release Company: Drafthouse Films