Review: Filmmaker Gareth Evans Continues His Five-Star Streak With Nuanced Sequel "The Raid 2"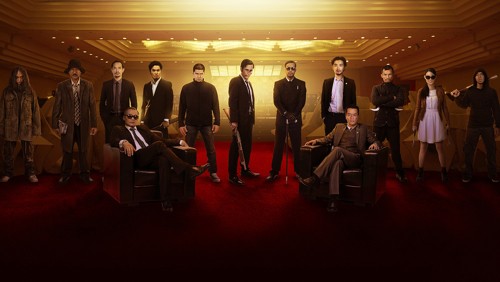 In a movie world where sequels rarely live up to the glory of their predecessors, finding one that matches the prowess of the original is rare indeed.  Plus one that does and then still manages to be altogether a different film experience is all but unheard of.  But Gareth Evans' second helping of his action original "The Raid: Redemption" is all of the above – and then some.  "The Raid 2" is a glorious five-star companion piece in terms of characters and action, but is also a wholly original story that weaves a complex crime saga that now adds lush layers to the mayhem.
Having made it out of the insane building full of killers and madmen, rookie cop Rama is scooped up by the powers that be to go undercover and infiltrate and take down a very powerful mob kingpin.  His journey begins in prison where the no-nonsense cop must gain the confidence of the kingpin's son Uco to move up the gangster chain.  Once out he finds himself in a dramatic life and death struggle between fathers, sons, rival gangs, a ton of specialized killers and even his own morality and duty as a cop undercover.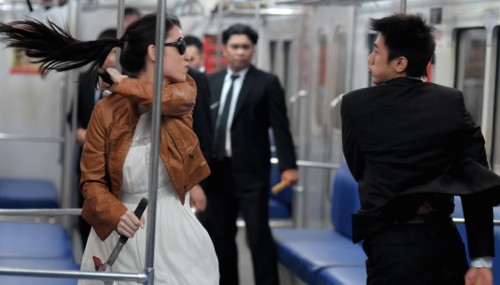 I'm being desciptively vague for a reason – there are a lot of story spoilers that can be revealed and can ruin the films' flavor.  Having loved and adored this outing as much as the first film (which was on my Top Ten list back then!) I would not dream of spoiling one note of Evans cool and calculated work.  Distinctly different from the balls-to-the-walls first film (but equally as magnificent!), "The Raid 2" is a film that joyfully and richly takes it's time.  It reminded me of David Cronenberg's "Eastern Promises" as a film that plays out in a slow burn heading towards an inevitable explosive ending, but through style and storytelling EARNS the right to have such a fantastic finale.  Not that action fans of the first film will be disappointed as new characters like Hammer Girl and Baseball Bat Man add a ton of new carnage to the mix here (plus the kitchen fight is one of the bloodiest battles I've even seen!), but there's a poignancy to the characters this time around that puts the film well into Godfather territory.  Lead man Iko Uwais, who was a tad raw in the first film, is called upon here to really reach down emotionally and he delivers handsomely.  Of course it helps that everyone in this cast – from the conflicted Arifin Putra as the conflicted son Uco to Mad Dog Yayan Ruhian from the first film here fleshed out as a vulnerable tough guy – is working at the top of their dramatic and physical game here, but Uwais is the action and now the dramatic glue that holds this terrific tale together.
Seeing that this is only Evans' second feature film ("V/H/S/2" not withstanding) to say I'm eager to see what he comes up with next is a total understatement.  Skilled with action, visuals and now nuanced dramatic storytelling, Evans has proven himself to be a filmmaker to watch for.  Defying sequel expectations may be considered a fluke by some, but hitting a home run every time out of the gate is not just luck – its skill. 
"THE RAID 2" HITS THEATERS MARCH 28 FROM SONY PICTURES CLASSICS.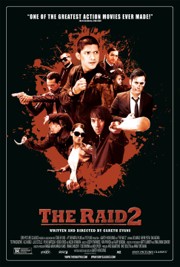 Title: "The Raid 2"
   Stars: 5
   Genre: Action / Drama
   Cast: Iko Uwais, Arifin Putra, Julie Estelle
   Director: Gareth Evans
   Rating: R
   Running Time: 150 Minutes
   Release Company: Sony Pictures Classics
   Website: http://www.sonyclassics.com/theraid2/