Review: 'Extract' Is Funny But Not What Expected

"
Extract
" is not quite what was expected. Sure, it's funny. Sure, the awkward uncomfortableness of previous
Mike Judge
films ("
Office Space
," "
Idiocracy
") is here. There's just something, well, different. Certainly not in a bad way. There's just something a little more Grown Up about "Extract." If "Office Space" is the equivalent of a 25 year old human being, "Extract" represents that same entity at 38. And there are plenty of comparisons to be made to "Office Space."
Jason Bateman
plays Joel (a mature and barely less disillusioned Peter Gibbons), the owner of an vanilla extract plant whose employee, Step (
Clifton Collins Jr.
), loses his, well, scrotum in an freak factory accident. Career criminal Cindy (
Mila Kunis
) reads about Step's injury in the local newspaper and hatches a diabolical plan -- landing a job at Joel's factory in order to get Step's personal information and, eventually, get her piece of Step's eventual settlement.
Joel, smitten by Cindy's deceptive advances, decides he would like to have an affair considering he hasn't had sex with his wife (
Kristen Wiig
) in over a month. His bartender, Dean (
Ben Affleck
-- playing the "Office Space" next-door-neighbor Lawrence "HEY PETER-MAN! CHECK OUT CHANNEL NINE! IT'S THE BREAST EXAM!" role) hatches a plan to have Joel's wife cheat on Joel first -- leaving Joel guilt free -- by hiring male gigolo, Brad (
Dustin Milligan
in a scene stealing performance). All while trying to avoid Nathan (
David Koechner
) who stands in for Bill Lumbergh as the slow talking and slightly arrogant character our hero tries to avoid -- this time a neighbor instead of a boss. And instead of TPS reports it's tickets to a banquet.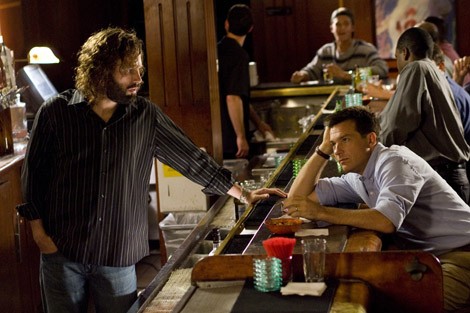 Image © Miramax Films
A lot of the humor is understated; not surprising with Bateman as the lead. The only sense of in-your-face humor appear in the scenes involving
Gene Simmons
as the super lawyer looking to bankrupt the plant.
What was different was the amount of heart. There's a sweetness (no pun intended, or was there a pun intended?) not present in prior Judge films. Sure, it's funny. A couple scenes hilariously so. But this is really Judge's "
King Of The Hill
" movie as opposed to "Beavis and Butt-Head." There's a sense of warmth near the end that was completely unexpected. Characters act in a way that was completely shocking, by almost not acting shocking. There's a redemption that's surprisingly pleasing, and in the end, that's the substance of the film. or, maybe even the, ahem, concentrated essence of the substance (pun definitely intended).
Grade: B+

"Mike's Pulse" is a column written by transplanted Midwesterner and current New Yorker Mike Ryan. For any compliments or complaints -- preferably the former -- you may contact Mike directly at miker@starpulse.com
or submit reader questions for celebrites to Mike on
Twitter
.

Subscribe to this author's RSS