Review: Equal Parts Storytelling And Acting Give Powerful '50/50' Real Resonance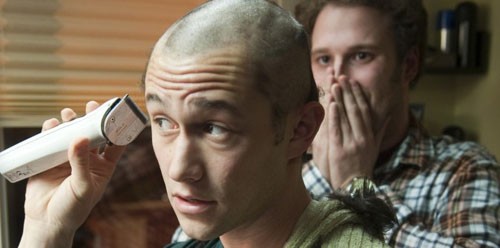 I recently spotted an ad for "50/50" which proudly proclaimed 'brought to you by the guys who did Superbad' – bad move.  Not that there isn't some Seth Rogen-esk humor within or some amusing levity brought to the morose subject of cancer, but the true impact behind the brilliance of "50/50" lies in its drama.
Joseph Gordon-Levitt stars as Adam, a young man who has a great life, good friends and a wonderful girlfriend.  But at the early age of twenty-seven he finds his life altered virtually overnight when he is suddenly diagnosed with cancer.  It's proves to be a whole new world for Adam with grueling treatments, candid therapy sessions and he even finds himself mingling with some of the older patients who have been around the cancer block.  But with a "50/50" shot of beating the cancer odds, Adam is, like it or not, forced to deal with the big C head on.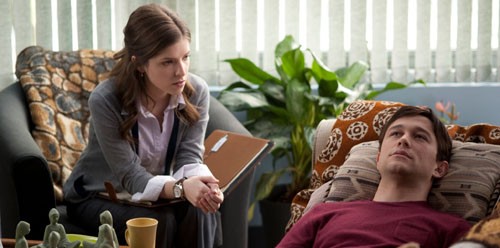 By far the inspiring script by Will Reiser is hands down the binding that holds the book that is "50/50" together.  His honest observations, wry humor and uninhibited desire to put his own experiences on the screen for all to see is what gives the film heart.  But then add to that some performances all across the board that fit everyone to a tee; Levitt in top form as the kid in denial, Seth Rogen (in the perfect amount of small comedic doses!) as his wisecracking buddy, Anna Kendrick as his newbie therapist, Bryce Dallas Howard as his weary girlfriend and especially the fabulous scene-stealing Anjelica Huston as his over-protective mother ALL shine.  Under the ample direction of Jonathan Levine (who made the highly underrated and still MIA flick "All The Boys Love Mandy Lane!"), the comedy within is simply used as a clever device to add humor to the weight of the deep drama and Levine wields both like a master swordsman in his element. 
But in the end it would have to be both storyteller Reiser and the conduit of his experience Levitt that gives "50/50" its real resonance.  The power of the page and the prowess of a perfect performance doesn't always work in every cinematic case, but with equal parts Levitt and Reiser the effect here cannot be denied – it's a "50/50" pairing of genius that works.
"50/50" OPENS IN THEATERS ON SEPT. 30 FROM SUMMIT ENTERTAINMENT
 ______________________________________________________________________________________________________________________________________________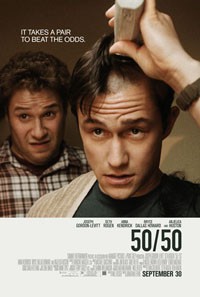 Title: "50/50"
   Stars: 4
   Genre: Drama
   Cast: Joseph Gordon-Levitt, Seth Rogen, Anna Kendrick
   Director: Jonathan Levine
   Rating: R
   Running Time: 99 Minutes
   Release Company: Summit Entertainment
   Website: www.50-50themovie.com