Review: 'End Of Watch' A Powerful Story On The Gritty Streets Of L.A.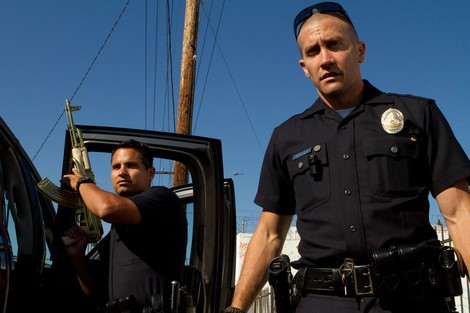 'Training Day' starring Denzel Washington and Ethan Hawke is one of my favorite 'cop' movies. It was written by David Ayers and now, once again, Ayers continues his fascination with the men in blue with his new gritty drama entitled 'End of Watch.'

This time his focus isn't on police corruption, but on the everyday life of the men and women who patrol our streets and put their lives at risk to serve and protect us.
'End of Watch', while not
completely
satisfying on an emotional level, does work for the most part. Thanks to the two leads,
Jake Gyllenhal
and
Michael Pena
, who have
great
chemistry between them.
Gyllenhal plays Brian Taylor, an ex Marine who comes from a wealthy family in Davenport Iowa. He wants to be a lawyer and attends college at night, where he studies
film
as well as law. Taylor is a dude that loves to take risks. His sensitive side only comes out when he talks about or spends time with his girlfriend, Janet (Anna Kendrick).
Taylor's partner, Mike Zavala (Mike Pena) couldn't be more different.
Zavala joined the force right out of high school. He grew up on the
streets
of East L. A. and has been married to the same woman, Gabby (
Natalie Martinez
) since high school.
Sitting in their police car, waiting for their next call, the two cops converse
candidly
about the risks of the job, including the rush and fear that comes with the territory. 
This is juxtaposed with their
humorous
conversations about women, life and fellow officers.
One thing is always clear...Taylor and Zavala would give their life for each other. They are brothers on every level. This is especially clear when a
hit
is put out on their lives by the Mexican cartel.
On the other side of the law, we meet the shadowy figures from the Sinaloa Drug Cartel and an L.A. street gang and their members...Big Evil, Wicked, La La and Demon, among countless other '
hoodrats
and
homies
'.
As the action unfolds, it's seen through
handheld
cameras, shot from the P.O.V. of Taylor, the gang bangers, dash cams, surveillance cameras and the citizens caught in the line of fire. This
360 degree
perspective creates an intense portrait of the city's darkest and most violent streets.
This is a
powerful
story about family, friendship, love, honor and courage. It's
not
a perfect film, but it's definitely worth seeing.
Rounding out the cast are
America Ferrera
,
Cody Horn
and Paul Grillo as fellow cops.
I gave 'End Of Watch' which opens in theatres, Friday September 21, three and a half bagels out of five. Check out our video to see John's rating and for more of our banter. 
Please
SUBSCRIBE
to our channel on
YouTube
and
LIKE
us on our Two Jews on Film Facebook page.
Let us know what you think of 'End of Watch'.