Review: Emblem3 Has 'Nothing To Lose'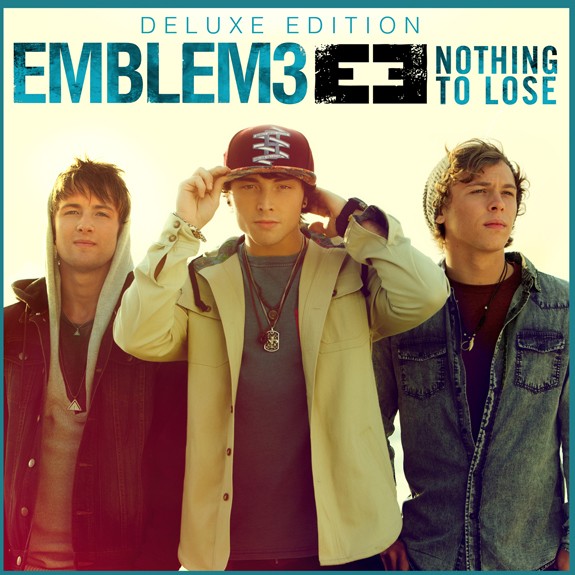 Emblem3 truly have 'nothing to lose' but do they 'gain enough' to become commercially successful?
Just as the album title suggests, former X Factor trio Emblem3 have nothing to lose. And I do mean nada. Why? Well, the former contestants from the show have been unsuccessful in establishing a commercial presence.  That goes for all of them – Tate Stevens, Marcus Canty, Rachel Crow, Josh Krajcik and Melanie Amaro.  To their credit  (or maybe better yet to Simon Cowell's credit), Emblem3 seem to have more 'commercial' firepower than the aforementioned.  That said, that doesn't make Nothing to Lose as a surefire thing critically or commercially.  From my perspective, the album has its moments that should appeal to the teen audience who view Emblem3 as the modern day heartthrobs (earrings, tattoos, surfer look, etc.), while it also has enough bubblegum, pop-rap to make skeptics roll their eyes.  In other words, it's mediocre.
"Just For One Day" establishes a breezy beach pop sound suited for Cali, opening with a rap. Rapping recurs later on, but don't call Emblem3 the next Eminem…  The lyrics are pretty easygoing and simple, perfect for the youthful crowd, including "…with the top down, hands up, wind your hair" (verse one) or "Baby this could be a dream / the kind to make you smile at night / and I'm the kind of guy to make the dream real life…" Yeah, yeah, yeah, you get the picture.  The chorus is the best part both instrumentally and lyrically: "We, we could be one love / we could be one light / just for one day / I said we, we could be one heart / we only got one life / so let's get away / just for one day…" Decent opener all in all, nothing spectacular.
"Spaghetti" is likely the 'deal breaker' for the anti-schmaltz, anti-teen pop crowd. "Let's ditch the party, ignore everybody / and we'll make spaghetti and it'd be all ready…" OK… It's silly, made sillier with the constantly reiterated "Aye ee aye everything's gonna be alright", but the production is solid.  Jack Antonoff (of fun.) and Savan Kotecha are notable songwriters.  On "XO", big drums signal a modern pop idiom and ultimately, continued consistency where production is concerned.  Like "Spaghetti" its ok without being breathtaking.  A rap during the bridge is 'cornball central', but might please tweens: "Click click, like a cupid on rampage / bam, bam blew a hole through my rib cage / pinky ring, middle finger down with the thumb / a simple way to let you know that you're my number one…"
The set's standout is single "Chloe (You're The One I Want)". The sound is bubbly, infectious, and anthemic, particularly on the chorus: "Chloe, I know you sister turns everyone on / but o baby I have no doubt you're the one that I want…"  This is a relatable sentiment to everyone even if primarily targeted towards the middle school or high school demographic.  The two pop-rap verses are bearable and pretty effective, while the bridge is corny yet honest, delivering a message to the "Chloe's" of the world being "diamond(s) in the rough".  Annoying? Yep, but irresistibly so.
Review Continued on Page 2