Review: Elton John 'The Diving Board' - Elton John Doesn't Miss A Beat On His Latest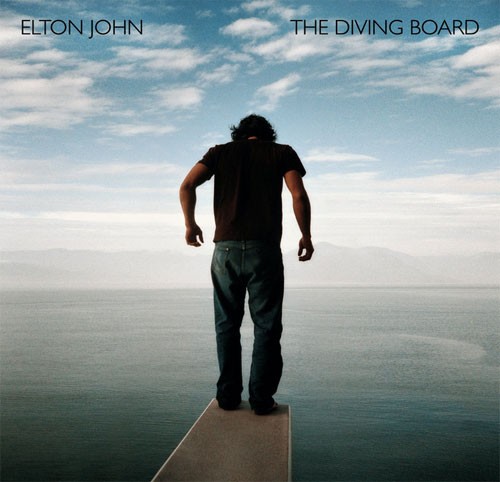 When I hear the name Elton John, one of the first words that comes to mind is legend (piano too, but we'll stick with legend for our purposes).  Elton John was certainly a gargantuan presence in pop and rock music back in the day. That might be an understatement within itself.   Sure, his days of being a commercial fixture are long past, but where many new artists lack musical longevity, John will always remain musically relevant.   That's part of the reason why his first solo album in seven years, The Diving Board, is kind of a big deal.  Sure, there is no "Candle in the Wind" or  "Philadelphia Freedom" on this oft stripped set, but there are plenty of well written, worthwhile additions to John's juggernaut-like collection.  Hey when Elton and Bernie get together – musically and lyrically – it's always a good thing.
The Diving Board opens superbly with the stripped "Oceans Away", which finds John accompanied solely by his piano playing.  Sure the number is an understated way to begin a 'comeback' of sorts, but don't let the setting sway you away.  "Ocean Away" is prudent,  definitely packing more punch than expected.  And ode to the previous generation, John urges for the embracement of their consummate wisdom: "I hung with the old folks / in the hope that I'd get wise / I was trying to bridge the gap / between the great divide."  The understated opener is proceeded by the more overt "Oscar Wilde Gets Out", a fascinating narrative-driven number based upon the 19th century writer.  It may not necessarily appeal to all, particularly those unfamiliar with Wilde, but it has some truly notable moments.  The prized lyric? "Looking back on the cold bleak winter / looking back on those long dark days / felt like the head of John the Baptist / in the arms of Salome."
"A Town Called Jubilee" infuses some funkiness into The Diving Board, propelled not only by an initial groove, but also John's bluesy piano lines.  John gets to further flex his pianistic muscles during an instrumental section.  But more than John's keyboard skills shine, so does his voice as well as the backing vocal support he receives during the standout chorus ("Come on little sister get up offa my knee / gonna settle down someday / in a town called Jubilee…").  "The Ballad of Blind Tom" follows the epic number with less 'hooky' though still compelling results.  If nothing more, John's piano skills always incite ear-catching moments.  This is especially true of the recurrent interludes.  "Dream #1" provides an intimate, piano only moment.
After the pianistic moment, "My Quicksand" captivates through its darker, more mysterious vibe.  John may not sound incredibly optimistic here ("My quicksand / let me introduce you / to my final stand / I went to Paris once / I thought I had a plan / I woke up with an accent / I wound up in quicksand…"), but the sprinkles of jazz lighten things up during the instrumental interlude.   Yeah, maybe he's morose, but at least it's impressively conveyed, right? "Can't Stay Alone Tonight" provides more hope, though the lyrical bridge is still heavy stuff: "Bruised in this cold war of words / we've come undone two loose ends alone / possessed by the curse you've endured / the spell that I cast couldn't make you come home." Well, it's in a major key with a gospel-country element.  Oh and Raphael Saadiq plays bass.
Any track titled "Voyeur" can only have an edge to it.  "Voyeur" certainly lives true to its title, as John sings "…the solitary eyes I've been looking through / committed to connecting the old ways to the new." There it is.  "Voyeur" would never be a 'commercial' single given chordal progression quirks and an unapologetic singer/songwriter feel, but that wouldn't be the intended approach anyways. "Home Again" appeals more, accentuated by the use of horns, keyboards, and bowed (arco) bass.  Strong songwriting and the expected commanding vocal performance by Elton John certainly doesn't hurt.
As good as "Home Again", "Take This Dirty Water" steals the show, with Elton John combining facets of gospel, blues, and rock.  Incredibly soulful and feel-good, "Take This Dirty Water" just might be the album's crown jewel.  "Dream #2" precedes "The New Fever Waltz", which is indeed a waltz and doesn't miss a beat.  "Mexican Vacation (Kids in the Candlelight)" gives "Take This Dirty Water" a run for its money, again calling upon gospel as a chief influence and some more bass accompaniment courtesy of Saadiq.  "Dream #3" finally delivers the entirety of the "Dream", this time finding John receiving an assist from bass and drums. Title track "The Diving Board" closes solidly, if a bit too slow and prolonged.  It's a cut with good intentions, but doesn't dare supersede  stacked numbers like "Oceans Away" or "Take This Dirty Water".
Ultimately, The Diving Board is an incredibly well done Elton John album.  It supersedes nothing from John's discography, but it neither needs to or really should.  John has already shared with us his greatest contributions to music… he has nothing more to prove.  The Diving Board is John on autopilot, doing what he does best.  They say you can't teach and old dog new tricks.  In John's case, why would you want or need to?
Favorites: "Oceans Away"; "A Town Called Jubilee"; "Home Again"; "Take This Dirty Water"; "Mexican Vacation (Kids in the Candlelight)" 
Verdict: ✰✰✰✰
Elton John | The Diving Board | Capitol | US Release Date: September 24, 2013