Review: 'Due Date' Is Formulaic But Still Funny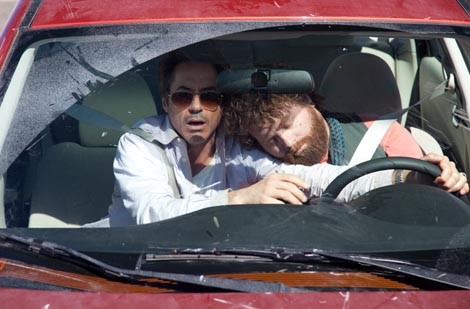 Even though the director Todd Philips does not blaze any new trails with his road trip/buddy comedy "Due Date," he effectively uses genre conventions and borrows elements from his previous works to make an amusing film.   "Due Date" combines the awkward situations of "The Hangover" with a little bit of the sophomoric humor in 2000's "Road Trip."  Like "The Hangover," this movie also contains the oddball comedian Zach Galifianakis, a man whose characters are epitome of oblivious. 
Probably the most well-known convention used by "Due Date" though, is the pairing of characters with complete opposite personalities.  Similar to the John Hughes classic "Planes, Trains, and Automobiles," this film focuses on a tightly wound businessman forced to travel with an obnoxious free-spirit, who is unaware of his own annoying personality quirks.  Steve Martin can be easily replaced with Robert Downey Jr. and John Candy with Zach Galifianakis. 
Instead of trying to make it home for Thanksgiving though, Downey Jr.'s character Peter Highman needs to make it cross-country for the birth of his first child.  When circumstances render Peter unable to fly back to Los Angeles, he is forced to hitch a ride with a man he has just met at the airport.  Highman's travel partner is an aspiring actor named Ethan Tremblay, who plans to relocate with his dog Sonny to Los Angeles.  The recent passing of Ethan's father has motivated him to chase his dream of becoming a Hollywood actor.
Naturally the combination of such dissimilar personalities is a recipe for hilarious conflict, especially for Peter, who is not interested in making a new friend.  Peter's impatience with idle conversation is the perfect foil for Ethan's incessant need to ask random personal questions.  Aside from the humorous exchanges between Peter and Ethan, there are a number of chaotic situations and bumps in the road that create amusing obstacles for the two to conquer.
Since Robert Downey Jr. normally plays relaxed wisecracking roles, it's impressive to see how skillfully he plays the straight man, allowing the antics of Galifianakis to create a lot of the humor.  Even though his character Peter can be incredibly mean to others, resorting to physical violence and harsh verbal lashing to vent his anger, he is still remarkably likable. 
Galifianakis portrays Ethan with a childlike sense of naivety that comes out in the form of annoying questions and awkward over-sharing.  One of the reasons Ethan so hilarious is the posture that Galifianakis uses when he walks.  His puffed out chest and hands on his hips are eerily accurate for the prima donna actor type of personality.
While "Due Date" is rather formulaic in its plot and its characters, Todd Philips rehashes familiar items from his past and the genre successfully to make a funny movie.  The presence of skilled comedians like Robert Downey Jr. and Zach Galifianakis is also vital though, because without them, the film would not be nearly as amusing.  Fans of either actor should enjoy "Due Date" quite a bit, but those who loved "The Hangover" might not find it as hilarious.               
My Grade: B+