Review: 'Delivery Man' Starring Vince Vaughn Delivers The Laughs And The Charm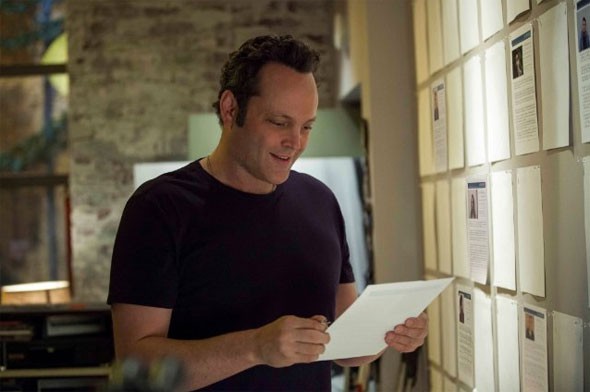 To say that David Wozniak (Vince Vaughn) is a 'Big Daddy' would be an understatement. David has fathered 533 children of which 142 have filed a class action lawsuit to find out the identity of their biological father.

If you're wondering how exactly David became the father of all these kids, wonder no more.  From 1990 thru 1992, he made multiple sperm donations, under the pseudonym of...Starbuck.  He was paid $35.00 a pop by a fertility clinic, racking up over $20,000.

Apparently, David's sperm was very popular. 'Delivery Man', written and directed by Ken Scott, based on his French Canadian film 'Starbuck' is the story of what happens when a screw-up is faced with making a very grown up decision.

David is 42 and is one of those guys who never got his life together.  He works as a delivery guy for his family's meat business; he's $80.000 in debt to some very nasty guys and his marijuana plants that he's growing in order to make money are dying.

Right after David finds out about the 533 children and the lawsuit, his on and off girlfriend policewoman, Emma (Cobie Smulders) informs him that she's pregnant.  David's ecstatic until Emma tells him that he's not father material - and she may not let him anywhere near the kid.

That's all he needs to hear for David to decide that it's time to get his act together.
With the help of his best friend/lawyer, Brett (Chris Pratt), David sets out to discover exactly who are the 142 kids filing suit against him. And in the process, he winds up becoming their guardian angel.
'Delivery Man' is a very sweet, touching film.  It's even funny at times and Vince Vaughn is better than he's been in quite a while.  He makes us really care about David as well as his new found family.
For that reason, I gave 'Delivery Man' which opens in theatres, Friday November 22nd, 2013, three and a half bagels out of five.  John's back to his old self and completely disagreed with my opinion.
Check out our video for his bagel score and for more of our thoughts.
Please SUBSCRIBE to our channel on YouTube and LIKE us on our Two Jews on Film Facebook page. Thanks everyone.